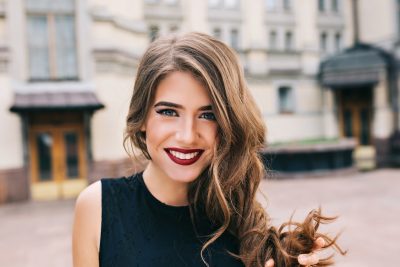 If you go in to your dentist's office for cosmetic work, it seems safe to assume you want to leave with smile improvements that truly last. A short-term change in your appearance can be nice, but you can be happy to know that the right procedure really can offer long-term benefits. Our Sheridan, WY dentist's office can help you feel sustained confidence in your smile by providing custom porcelain veneers. With these restorations, we can take care of your appearance by addressing concerns about discoloration, dental damage, poor spacing, and more!
How Would You Like To Change Your Smile?
Whether you have a specific tooth that stands out when you smile or several issues you want to address, veneers can help. With these restorations, we can take on problems with the color of your teeth, and we can hide flaws caused by enamel damage, including damage from general wear and tear. In some cases, we will even be able to use veneers to address concerns about teeth spacing.
Planning A Procedure With Porcelain Veneers
Porcelain veneers are placed in the course of two appointments. An initial visit is necessary so that we can evaluate your smile closely and plan your procedure, prepare your teeth for your restorations, and take measurements that we will use to craft your custom shells. When you return, you will have your veneers put in place to cover teeth that negatively affect the way you look. This approach can make a significant difference in the way you look, but it can do so while only requiring minimal changes in your tooth structure.
Reviewing All Of Your Options For Cosmetic Treatment
Our office provides multiple cosmetic dental services, so we can help you find the procedure that is just right for your needs and concerns. Are you looking for a way to restore your smile in the shortest time possible? If so, we may be able to deliver the results you want in just one visit through tooth bonding treatment. We can also recommend the use of clear aligners for individuals who want straighter teeth but feel self-conscious about wearing braces. In some circumstances, we may recommend that you receive dental crowns to restore awkward or unflattering teeth, as this approach will provide oral health support and cosmetic benefits.
Talk To Your Sheridan, WY Dentist About Veneers!
Through the placement of veneers, we can make significant changes to your appearance. These thin, durable shells have the capacity to change the color, smile and shape of teeth that currently keep you from showing off your best smile. If you would like to find out more about this procedure, or if you are interested in another cosmetic service, let us know! You can set an appointment by calling Grinnell Street Dental in Sheridan, WY at 307-672-7567.