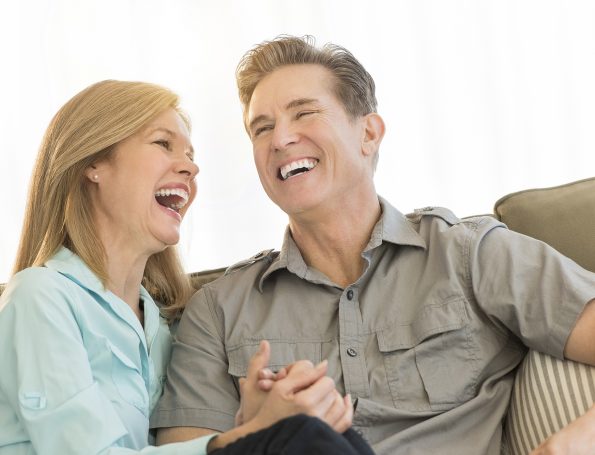 Metal-Free, Tooth-Colored Fillings
Safer, more lifelike tooth fillings
Dental fillings (or tooth fillings) are the most frequently recommended treatment for mild to moderate cavities, which are depressions in your teeth caused by the development of tooth decay. Traditionally, tooth fillings have been made from a mixture of silver, mercury, and several other trace metals, known as metal amalgam. Instead of amalgam, we prefer to treat cavities using tooth-colored composite resin, which consists of biocompatible acrylic and quartz-like particles instead of metal.
What are metal-free fillings?
The finely ground particles that make up composite resin are nearly colorless. Before placing the resin into your cavity, we can custom-tint it to match your tooth's unique, healthy color and shade, making it blend in naturally with your tooth and those around it. After cleaning your tooth's cavity of infected tooth structure and the harmful oral bacteria that lead to tooth decay, we can bond the customized resin in place within the cavity to restore its strength. Unlike metal fillings, a tooth-colored one will remain discreet, and can offer several additional benefits for your tooth's health and integrity.
The benefits of tooth-colored fillings
By utilizing more natural-looking and biocompatible materials than metal, tooth-colored fillings offer several important advantages when it comes to treating cavities, such as:
Maintaining your smile's healthy appearance
Remaining safe for all patients (even those with metal allergies)
Conforming more accurately to your cavity's shape
Preventing the risk of more severe tooth infection
And much more
Treat your cavity with a better filling
When you have a cavity, a metal-free filling could be the most effective and discreet way to treat it. To learn more, or to schedule your consultation with us, call Grinnell Street Dental today at 307-672-7567. Located in Sheridan, WY, we also proudly serve the residents of Gillette, Billings, Miles City, and all surrounding communities.