Chris White
Registered Dental Hygienist
A 1981 graduate of Sheridan College, Chris has practiced dental hygiene as an RDH for 30 years and has special certifications in laser therapy. She has always focused on helping patients achieve optimal oral health so that they can keep their smiles healthy throughout life. Chris values the high quality of dentistry performed at Grinnell Street Dental, and she is proud to be part of such a compassionate and skilled team.
---
Heather Rader
Financial Coordinator
Heather has been with Grinnell Street Dental since 2001. Additionally, she completed the Dynamic Team Concepts course at the Las Vegas Institute for Advanced Dental Studies. Heather is also a member of the American Association of Dental Office Management (AADOM). Heather and her husband, James, enjoy camping, and Heather's hobby is photography.
---
Kari Butler
Hygiene Coordinator
Kari joined our team in 2019 and is so proud to work with a great group of professionals! She was born and raised in Fargo, North Dakota. She graduated from North Dakota State University, and volunteers her time with both Hospice and the Akcita Win Women's Club. Our patients appreciate her ability to provide top-notch care and take time to get to know them. When not in the office, she enjoys crafting, camping, reading, and traveling. Favorite quote: "Every day is a new day. Git'r done!"
---
Abbey Woods
Registered Dental Hygienist
Abbey has a BS degree in Dental Hygiene from Sheridan College and special certifications in laser therapy. She finds being a part of the dental field an exciting challenge full of new opportunities and experiences. A native of Cheyenne, Abbey loves to spend time in the great outdoors camping, snowboarding, and shooting trap.
---
Mandy Sams
Dental Assistant
After receiving her degree from Central Wyoming College, Amanda moved from Riverton to Sheridan. Amanda has a passion for helping our patients enjoy the healthiest smiles possible. When she's not at the office, Amanda enjoys competitive volleyball and camping in the great outdoors with her husband and daughter.
---
Amanda Gallatin
Dental Assistant
Amanda is a native of Colorado but claims Sheridan as her home for the last 9 years. A lover of all things outdoors, she keeps busy with her German Shepherd, gardening, canning, and hiking in the Big Horns. She also enjoys running her own Air BnB business. She has been at our office since 2015 and as an assistant to both doctors, she enjoys helping our patients feel the best about their smiles.
---
Addison Schindler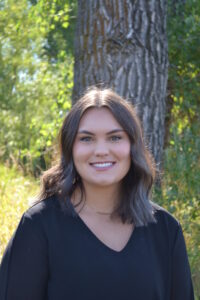 Registered Dental Hygienist
Addison is originally from a small town in Western Montana. She graduated from Drummond High School and attended Montana State University in Bozeman for two years before transferring to Sheridan College to study dental hygiene. While in the dental hygiene program, she earned her Bachelor of Science in Dental Hygiene. Her family joked about her becoming a dentist when she grew up, but she believes she chose the next best thing. She has always loved a pretty smile, and by helping her patients achieve their best smile, while also helping them maintain good oral hygiene, she feels she never has to work a day in her life.
Outside of the office, Addison is a workout instructor at the Sheridan YMCA and local dog sitter. Addison spends her free time by going to the gym, spending time with friends, and exploring her new home state.
---
Visit our dental team in Sheridan, WY
Our team is ready to help you take control of your oral health. To learn more, or to schedule your consultation with us, call Grinnell Street Dental today at 307-672-7567. Located in Sheridan, WY, we also proudly serve the residents of Gillette, Billings, Miles City, and all surrounding communities.
---