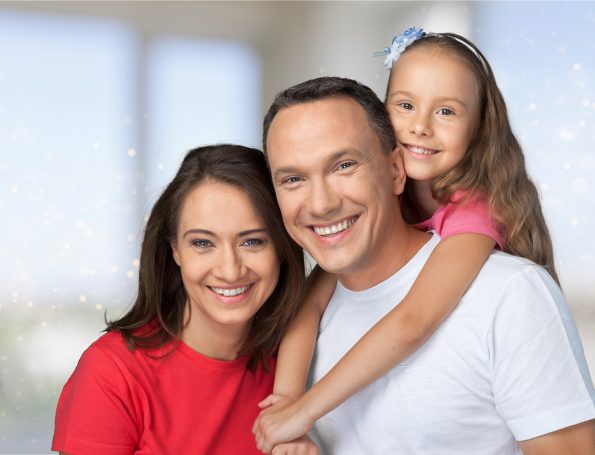 Single Tooth or Complete Smile Makeovers
Veneers can improve multiple concerns
Porcelain veneers are an increasingly popular cosmetic dental treatment, and are designed to improve most types of tooth blemishes with highly lifelike results. Rather than designing a smile makeover plan consisting of several different treatments, veneers can help us completely transform your smile in just one procedure. This not only makes your treatment more convenient, but also minimizes the amount of dental work you need to improve your smile.
What are porcelain veneers?
Veneers are super-thin shells of dental porcelain that are specially designed to mimic the front surfaces of your healthy, natural teeth. A custom veneer can be bonded to your tooth to completely transform its appearance, and because the shell is so thin, it can be placed with minimal preparation to your tooth. After carefully sculpting a small amount of enamel from the front of your tooth, we can bond your custom veneer in place, permanently improving the tooth's appearance.
When veneers are most appropriate
The dental porcelain that veneers are made of is a highly lifelike and biocompatible material. It can be tinted to match your tooth's unique color and shade, and because it's semi-translucent like your tooth enamel, it can even reflect light to the same degree as a healthy tooth. The combination of a highly lifelike results and minimally invasive tooth preparation make porcelain veneers an often ideal solution for a wide range of concerns, such as:
Severe, internal tooth discoloration
Teeth that are chipped and/or worn down
One or more excessive spaces between teeth
Teeth with mild to moderate cracks in their surfaces
Slightly misshapen or malformed teeth
Teeth that are slightly misaligned
Teeth that exhibit several of these and other concerns
Find out if veneers can makeover your smile
With the ability to correct several different types of cosmetic issues at once, one or more porcelain veneers may be able to completely makeover your smile. To learn more, or to schedule your consultation with us, call Grinnell Street Dental today at 307-672-7567. Located in Sheridan, WY, we also proudly serve the residents of Gillette, Billings, Miles City, and all surrounding communities.