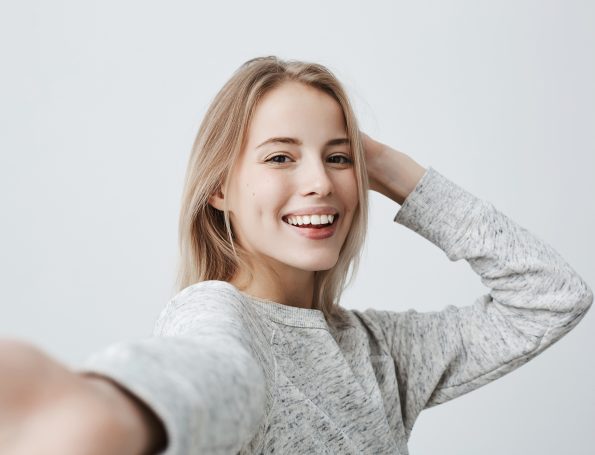 Invisible Orthodontic Treatment with Invisalign®
Straightening teeth with aligners, not braces
Orthodontic treatment is necessary when your teeth are misaligned, and Invisalign® clear aligners offer many patients an alternative to traditional orthodontic braces. Invisalign treatment is designed to remain discreet while straightening your smile. It utilizes a series of clear acrylic aligners rather than conventional brackets and wires. This means your treatment remains discreet and offers several other important benefits for your smile.
How does Invisalign® work?
Invisalign orthodontic aligners are created in a series and are digitally designed to match your smile precisely and accurately. Each aligner is crafted to shift crooked teeth to a certain degree toward straighter positions. Every time you progress to the next aligners in the series, they continue this path of movement until your teeth reach their desired positions. Unlike traditional braces, there are no brackets or wires to bond to your teeth, and the aligners can be temporarily removed to make daily life more convenient throughout the course of your treatment.
The benefits of Invisalign® clear aligners
The most popular benefit of Invisalign aligners is that they're clear, which means they remain virtually invisible when placed over your teeth. Even while undergoing orthodontic treatment, you can continue to speak and smile confidently knowing that your treatment is unnoticeable. In addition to their more discreet appearance and the confidence that brings, Invisalign aligners also offer benefits such as:
Greater comfort due to no metal parts
Improved convenience every day of your treatment
Better hygiene, as you can remove aligners to clean your teeth
A more enjoyable diet, as you can remove the aligners before eating
And much more
Find out if you qualify for Invisalign®
If your teeth are misaligned and need to be straightened, then Invisalign® clear aligners may offer a more discreet and convenient alternative than traditional metal braces. To learn more, or to schedule your consultation with us, call Grinnell Street Dental today at 307-672-7567. Located in Sheridan, WY, we also proudly serve the residents of Gillette, Billings, Miles City, and all surrounding communities.