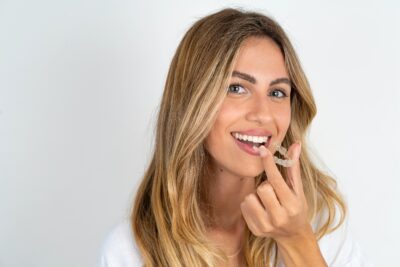 When you have a crooked or crowded smile, then your oral health could suffer and you could feel embarrassed about your smile. But our team can offer a clear and comfortable solution to your uneven smile! In today's blog, your Sheridan, WY, dentist talks about how we create and use clear Invisalign® aligners to treat your misalignment!
The Dangers of Your Misalignment
When you have crooked, crowded, and overlapping teeth, this could make thorough brushing and flossing difficult, and increases the risk of tooth decay and gum disease as a result. The stress on your bite balance could make the onset of TMJ disorder and bruxism more likely as well. Finally, you could simply feel uncomfortable with your appearance and even take steps to hide your smile. But with Invisalign®, our team can correct your uneven smile with a cosmetic approach, using clear aligners instead of metal brackets and wires.
Creating Custom Aligners
To create your custom aligners, our team will begin by taking detailed digital images and measurements of your smile from multiple angles. We then use these to design and craft your orthodontics, ensuring the completed aligners fit comfortably and provide treatment with precision and accuracy. Each one is made from a clear, BPA-free plastic, and fit comfortably to help you avoid gum and cheek irritation. They are easy to clean and use too.
Treating Your Uneven Smile
The treatment process involves wearing a set of your aligners for about 20 to 22 hours per day on average, for a period of about two weeks. At which point you begin wearing the next set and continue the process. For adults, this could take as little as a year, while teens and those with more severe misalignment may need around 18 months. Regardless, this is shorter than the time required for braces. You also have fewer office visits too. They are removable, so you can take them out before meals, no need to avoid certain items or change your diet. Being removable also means you have an easier time brushing and flossing, which fights stains and tooth decay, as well as gum disease. You can also take them out before special occasions too!
If you have any questions about how we correct misalignment with our clear plastic aligners, then contact our team today to learn more. Everyone should have a smile that makes them feel confident, and everyone deserves good oral health too.
Schedule A Treatment for Clear Braces Today!
Our team wants to offer a solution for your uneven smile, so you can enjoy better oral health and a more attractive smile too. Reach out to Grinnell Street Dental in Sheridan, WY at 307-672-7567 to talk about our clear and comfortable plastic orthodontics.