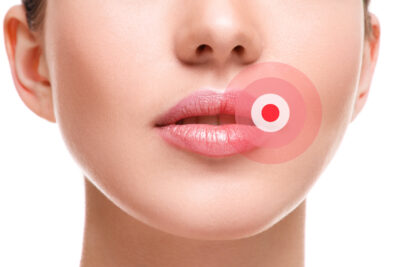 Dental lasers can offer treatment for soft tissues concerns in one visit, with comfort and precision. We can treat issues like cold sores, and even help manage gum disease. In today's blog, your Sheridan, WY, dentist talks about how we treat cold sores and other concerns with laser dentistry.
Cold and Canker Sores
Cold sores are caused by the herpes simplex virus. They can be easily spread between people by sharing utensils, hygiene products, and kissing. A sore then forms on the lips that is uncomfortable, and this could cause sore throat, swollen lymph nodes, and fever. While they do heal on their own, this could take time. Canker sores form in the interior of the mouth, and are every uncomfortable. With laser dentistry, we can shrink these in one visit, so they vanish much faster. Treatment then prevents them from forming in the same areas in the future. Results are possible in a shorter time frame when compared to medications like creams and ointments.
Dental Lasers
The dental laser we use to treat the sores is specially calibrated to handle soft tissue concerns with precision and accuracy, preventing damages to surrounding tissues in the process. There is no need or scalpels and sutures, and the treated area heals quickly, with little risk of bleeding, swelling, or discomfort. There is also little to no need for any anesthesia either! Treatment only takes one visit, and people usually return to normal activities shortly afterward. We're proud to offer advanced treatment options, so our patients can enjoy treatment with precision and accuracy.
Gum Disease and Contouring
We don't just use these advanced lasers to treat cold sores. If you have gum disease in a more severe state, we could use them to trim away diseased tissue or to destroy harmful oral bacteria, so your disease can be easily managed with traditional cleanings moving forward. If you have an excessive amount of gum tissue on display when you smile, we could gently trim away excess tissues and reshape the gum line, so you can smile with confidence. In one visit, this offers better symmetry in the gum line and a more attractive smile.
If you have any questions about how we use technology to treat cold sores, gum disease, or even cosmetic concerns, then contact our team today to learn more. We want to help you enjoy improved oral health and a more attractive smile with comfort and precision.
Talk To Your Sheridan, WY Dentist About Our Advanced Technology
We want to offer care with comfort and precision. To find out how we improve the health and beauty of your smile with advanced technology, then reach out to Grinnell Street Dental in Sheridan, WY at 307-672-7567.