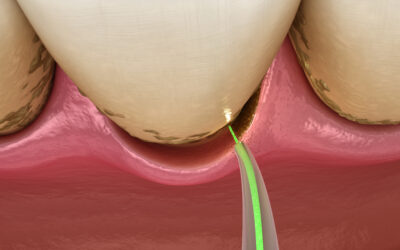 When you have a cold or canker sore, this can be embarrassing and a source of discomfort. To bring relief, we can opt for an advanced piece of dental technology. In today's blog, your Sheridan, WY, dentist discusses how we can use dental lasers to offer treatment with comfort and precision.
Cold and Canker Sores
Cold sores develop due to the herpes simplex virus, and can be spread through sharing utensils and hygiene products, or through kissing. Canker sores occur in the interior of the mouth or gums, and are not contagious. However, both are a source of misalignment and cold sores can be visible, often causing embarrassment. Related to these could be sore throat, fever, and swollen lymph nodes. While they heal on their own, this can take time. But with laser dentistry, we can offer immediate relief.
Treatment
The dental laser we use is specially calibrated to treat soft tissue concerns safely and comfortably. The concentrated beam of light can then target and remove the cold sore, preventing it from erupting and allowing it to heal much faster, especially when compared to traditional medications. The same goes for canker sores too. This also helps prevent a sore from appearing in the same spot again in the future. The procedure is fast and only requires one visit to address, and you can return to normal activities afterward.
Other Treatment Options
The same technology can also be used to address periodontal disease, so we can destroy harmful bacteria that causes the disease, and also tissues that are diseased. This helps us manage the issue moving forward with simple dental cleanings every three to four months. Lasers can also help with gum contouring, correcting gummy smiles and uneven gum lines to improve smile beauty. Again, the process only requires one visit and maybe a day of rest, after which you can return to your normal routine.
Benefits
Dental lasers offer a number of benefits over traditional scalpels and sutures. For example, the procedure rarely requires the use of anesthesia and is very comfortable. They target the area with precision to prevent damage to healthy tissues. Since the technology essentially cauterizes the treated area, the risk of bleeding, swelling, and infection is significantly lowered. The area also heals much faster too!
If you have any questions about how we can use dental lasers to treat issues like cold and canker sores, or periodontal disease or gummy smiles, then contact our team today.
Talk To Your Sheridan, WY Dentist About Easing Discomfort
Our team wants to help you avoid painful symptoms. To find out how we can help safeguard your smile with advanced technology, then reach out to Grinnell Street Dental in Sheridan, WY at 307-672-7567.