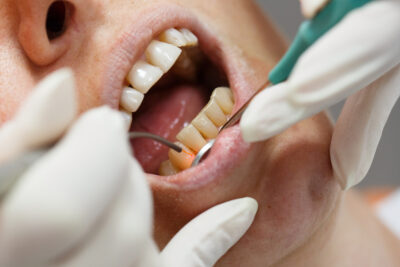 We offer a number of technologies to ensure treatment is comfortable and effective for our patients. With one option, we can offer solutions for cosmetic and restorative concerns. In today's blog, your Sheridan, WY, dentist talks about how we use dental lasers to treat issues like cold sores.
Soft Tissue Lasers
A dental laser uses a specially calibrated beam of light to address in your smile with accuracy and precision, correcting problems without damaging surrounding tissues or healthy structures. When possible, we use these in lieu of scalpels and structures to provide treatment for a number of different oral health concerns, both cosmetic and restorative.
Treating Cold Sores and More
Our team can use them to bring relief from cold and canker sores, shrinking them so they heal quickly and stop discomfort. The technology can also be used in gum contouring to remove excess tissue and reshape the gum line for patients with smiles that display too much gum tissue, making teeth appear small or uneven. If you have a more advanced stage of gum disease, this could be used to remove diseased tissues and allow healthy ones to adhere to the teeth, so the disease can be easily managed with preventive cleanings going forward. Lasers have also been employed to help remove decay, treat infections, and even aid in teeth whitening.
The lasers don't usually require anesthesia when used, and they target the areas requiring treatment with precision. They also prevent infection afterward, and help patients avoid swelling and bleeding as well. The treated area will heal quickly, which means most people return to normal activities after a day of rest, and the treatment itself only takes one session to complete.
Schedule a Visit Soon
A new year is here, and we want to make sure you start it with a bright and healthy smile. Now is a great time to schedule your first checkup and cleaning of 2023, so we can identify areas of concern and address them with lifelike restorations. We also clean the smile to remove plaque and tartar, offering fresher breath, brighter smiles, and better oral health. If you have serious issues that need attention, such as aching or missing teeth, or cosmetic concerns that need correction, then we can help create a personalized treatment plan to transform your smile in 2023. If you have any questions, then please contact our team today to schedule a visit and start your journey to a better smile.
Talk To Your Sheridan, WY Dentist About Our Advanced Technologies
We would like to help you maintain your healthiest smile possible. To find out how we offer advanced and comfortable treatment with dental lasers, then reach out to Grinnell Street Dental in Sheridan, WY at 307-672-7567.