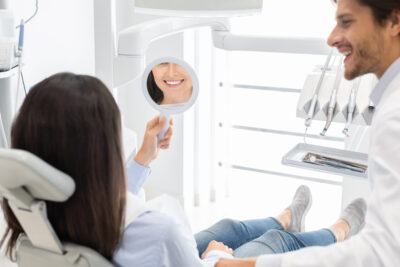 While they can eventually heal on their own, cold sores can prove frustrating for as long as they are present. Upon erupting, they can be painful as well as a potential infection risk, and they can certainly draw unwanted attention. Even when no sore is present, you can find yourself feeling uneasy about when the next one will form. What you should know is that there is a treatment offered by your Sheridan, WY dentist that can help you. By using laser technology to tend to your sore, we can stop its growth, speed up your recovery, and help you avoid any potential complications. By targeting the virus responsible, we can even keep a new sore from erupting in that same area!
Are You Tired Of Letting Cold Sores Interrupt Your Life?
The recurring interruptions of cold sores can grow frustrating for you. This is an issue that can become a source of embarrassment as well as a potential problem for your well-being. The slow recovery and heightened infection risk from an erupted sore can certainly hurt your quality of life. Fortunately, there is something that you can do about the matter. With treatment using our specially calibrated laser, we can target the bacteria that cause sores to form, something that speeds up recovery and leads to fewer issues overall.
Taking Care Of A Cold Sore With Laser Technology
Laser treatment for cold sores can be effective as well as surprisingly comfortable for you. The procedure will target the virus that causes this sore to develop. When performed in time, this can actually prevent eruption, making your experience with it significantly easier. The process can be easier to undergo than you think, as the laser is gentle enough to make anesthetic unnecessary.
Other Treatments To Help You Maintain Your Confident Smile
There are different solutions available to patients who want to change how they look when they smile. We can target cold sores and other issues that are related to your health, but remember that we can also make corrections to problems that are purely cosmetic concerns. For instance, we can resolve problems with dental discoloration by providing an effective teeth whitening treatment. We can also use Invisalign aligners to make adjustments to teeth when they are not spaced properly.
Talk To Your Sheridan, WY Dentist About Laser Cold Sore Treatment
Cold sores become painful, embarrassing problems that continue to impact your quality of life. They also carry risks for infection that can further affect you. Fortunately, laser technology can produce positive results by targeting the virus responsible for the problem! If you would like to discuss treatment for this or any other issue, please reach out to Grinnell Street Dental in Sheridan, WY at 307-672-7567.