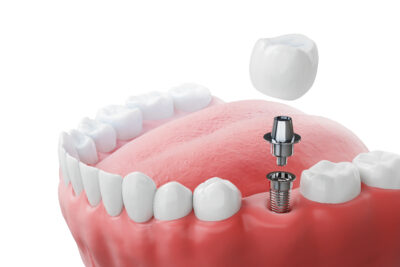 When you lose teeth, this could lead to issues that eventually impact your youthful features and the stability of your jaw. But if we address your missing teeth with dental implants, we can actually preserve your youthful facial features. In today's blog, your Sheridan, WY, dentist talks about placing dental implants.
The Aftermath of Tooth Loss
When we lose our natural teeth, this could lead to serious trouble for your smile. For example, the gaps could make eating your favorite foods impossible, and limit your nutritional intake. Others could have trouble speaking clearly, or may simply feel embarrassed in social situations due to the gaps in your smile. The gaps could also cause teeth to drift from position, leading to dental misalignment. Poor alignment then leads to a higher risk of tooth decay and gum disease. Finally, you could risk further tooth loss and an aged appearance as the jawbone around the missing roots breaks down. But with dental implants, we can prevent these issues from occurring!
Placing Your Replacement Teeth
First, we need to carefully examine your smile with digital technology. We want to make sure your jawbone can support dental implants, and to assess the cause of your tooth loss. You may have underlying oral health issues that need attention before we proceed with implant placement. Our team also uses these images to plan the position and angle of your dental implant post, a biocompatible titanium device that looks similar to a small screw. This is inserted into the jawbone, and then bonds with the bone tissue through a process known as osseointegration. The jaw then avoids the loss of mass and density, so you don't lose additional teeth and your new teeth can last for decades to come, maybe even a lifetime!
A Lifelike Appearance
Once the placement area heals, our team will then add abutments to the post that extends above your gum line. These are what we attach the restoration to, the custom crowns look natural, blend with your smile, and provide a durable chewing surface. If you have multiple missing teeth, then we can use posts to secure a bridge or a fixed set of dentures. Your new teeth never slip, and don't need to be removed for maintenance, instead they look and function like natural teeth.
If you have any questions about how we handle minor or severe cases of tooth loss with implant dentistry, then contact our team today to learn more. We're ready to help you enjoy a full smile again!
Talk To Your Sheridan, WY Dentist About Replacing Lost Teeth
We want to help you enjoy a complete and beautiful smile again. To find out how we replace your lost teeth, then reach out to Grinnell Street Dental in Sheridan, WY at 307-672-7567.