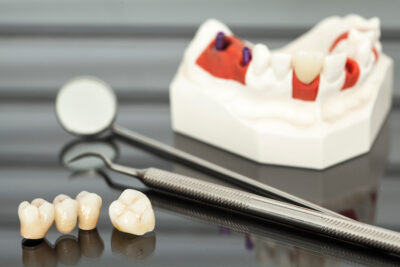 When you have a tooth that sustains damage or develops serious decay, then you may need a restoration like a crown. If a tooth is lost, then you need replacement to fill the gap and preserve your smile. Our team can help with custom restorations. In today's blog, your Sheridan, WY, dentist talks about our lifelike crowns and bridges.
When You Need to See Us
As we touched on above, a dental crown is a full restoration that covers the entirety of the tooth's visible portion, and can address multiple restorative concerns. For example, we can use them to treat advanced tooth decay, complete a root canal for an infected tooth, and repair cracked or broken teeth. We can repair teeth too, and also improve bite function and balance as well. If you have missing teeth, then we have custom bridges that can address the gap in your smile! If you have damaged, aching, or missing teeth, then schedule a visit to receive a lifelike restoration or prosthetic that blends with your smile.
Dental Crowns
To place a dental crown, we will numb the tooth in question and then remove structure from it to make room for your new restoration. We take detailed digital pictures of the tooth from several angles, and use these to create a 3D computer impression. With this impression, we can design and fabricate your finished crown. We often use materials like ceramic, which are very durable and can also be color matched to blend with your smile seamlessly. After placement, you will have a healthier and more attractive smile!
Dental Bridges
What if you lose a tooth, or up to three in a row? Without treatment, this gap could mean misalignment, painful jaw joint disorders, and even impacts on how you eat and speak. But we can fill the gap and protect your smile with a custom dental prosthetic. First, we numb the teeth on each side of your gap. Known as abutment teeth, these will help secure your bridge. We then remove structure from the abutment teeth and take digital images of them, which again we use to craft a 3D computer impression. We then design and create your bridge, which consists of new ceramic teeth with restorations one each end. We then attach them to the abutment teeth, securing your new ones firmly in place. These can last for 10 to 15 years in many cases!
If you have any questions about our custom dental crowns and bridges, then contact our team today.
Talk To Your Sheridan, WY Dentist About Our Lifelike Restorations
Our team wants to restore your smile and help you feel more confident. To find out how we repair and restore your smile, then reach out to Grinnell Street Dental in Sheridan, WY at 307-672-7567.