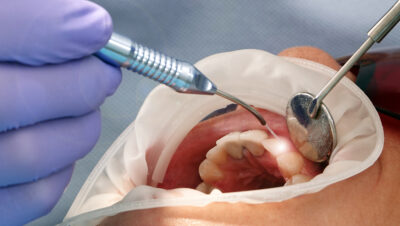 We implement advanced technology throughout the treatment process, from diagnosing a problem with digital x-rays to treating oral health concerns with laser dentistry. In today's blog, your Sheridan, WY, dentist is going to focus on laser dentistry in particular, which can offer treatment with precision and accuracy.
The Benefits of a Dental Lasers
Dental lasers employ concentrated beams of light that have been specially calibrated to address soft tissue concerns in your smile. Unlike scalpels and sutures, these don't require the use of anesthesia and are very comfortable. Since the laser cauterizes the treated area, the risk of bleeding, swelling, and infection drops as well. The precision protects healthy tissues from injury, and people often return to normal activities after only a day of rest, as the treated areas heal quickly. We can use this technology to address a host of serious oral health concerns, returning comfort, health, and beauty to your smile once again.
Cold and Canker Sores
We can also help bring relief for cold and canker sores. Cold sores are caused by the herpes simplex virus and appear on your lips. They can cause sore throat, fever, and swollen lymph nodes, as well as an embarrassing appearance. They heal on their own, but this can take weeks. But with laser technology, we can shrink and remove the sore, often before it erupts. After treatment, there is little chance of a similar sore appearing in the same place. This is much faster than results offered with creams and medications. Canker sores appear in the interior of the mouth, and again we can employ this technology to shrink them and ease discomfort in a fast time frame.
Gum Disease
Our team can also employ the technology to offer gum contouring, which means removing excess gum tissues and reshaping the gum line to improve the overall appearance of your smile. If you have a severe case of periodontal disease, we can remove diseased tissues to help make management much simpler with dental cleanings and better oral hygiene habits. If you want to find out if this technology can help the health and appearance of your smile, then contact our team today to learn more. We're ready to help you enjoy optimal oral health, and can use advanced technology to make this possible.
Talk To Your Sheridan, WY Dentist About Our Advanced Technologies
We're ready to improve the health, comfort, function, and even the beauty of your smile with advanced technology. To find out how we boost oral health with laser dentistry, then reach out to Grinnell Street Dental in Sheridan, WY at 307-672-7567. We would love to see you soon and start you on the path toward optimal oral health and smile beauty in 2023 and beyond!