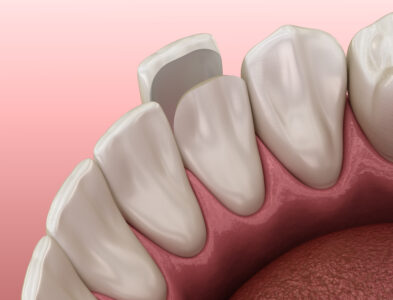 When you have several imperfections with the appearance of your smile, then you could benefit from cosmetic dentistry. Instead of using several treatments, we could actually address multiple imperfections with a single restoration. In today's blog, your Sheridan, WY, dentist talks about creating and placing porcelain veneers.
Common Smile Imperfections Veneers Correct
How do we transform smiles with one treatment? Porcelain veneers are restorations in the form of thin porcelain shells, which we place on the front of the teeth. They instantly alter the front and sides of the teeth, making major cosmetic improvements in just two visits. For example, we can mask permanent teeth stains that stand up to traditional teeth whitening treatments. Our team could close gaps between teeth, and use porcelain restorations to correct the appearance of minor misalignment. You can achieve a straighter looking smile with braces or aligners! Placement could lengthen worn down teeth, repair minor damage, and correct misshapen ones too. All with the placement of a cosmetic restoration.
Creating and Placing Them
The process takes two visits. The first involves our team numbing the tooth and gently removing a thin layer of enamel, making room for the completed restoration. We then take digital images of the tooth or teeth and use them to design and fabricate the veneers in a lab setting. We shade the material to ensure it matches the shade of surrounding teeth. When you return for a second visit, we will check the fit and make any necessary adjustments. We then connect the restorations to your teeth with a powerful binding agent, so you leave with a brighter and more attractive smile.
Tips for Keeping Them Bright
Your veneers can stay in place for years and with proper care, and remain bright too. The same actions that ensure this also helps safeguard the health and beauty of your surrounding teeth too. You should brush your teeth twice a day and floss every evening, as this fights the decay, infection, and gum disease that could threaten your tooth, and the plaque buildup that makes stains visible. You should avoid smoking too, and eat a healthier diet to prevent plaque and tartar. Every six months, make time to see us for a checkup and cleaning, so we can safeguard your smile by removing all plaque and tartar and polishing your teeth.
If you have any questions about our porcelain veneers, or about any of our other cosmetic dental treatments, then contact our team.
Talk To Your Sheridan, WY Dentist About Our Cosmetic Restorations
We would like to help you smile with confidence with cosmetic dental care. To find out how we improve the beauty of your smile, then reach out to Grinnell Street Dental in Sheridan, WY at 307-672-7567.