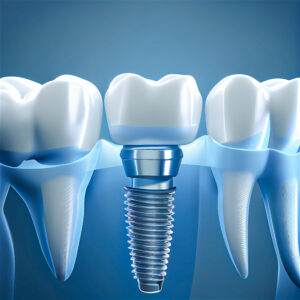 When you have suffered from a missing tooth, or have lost several of them, then you may need to undergo treatment to protect the function, health, and beauty of your smile. To address lost teeth, our team can secure one or more dental implants. In today's blog, your Sheridan, WY, dentist talks about the benefits dental implants offer for people with missing teeth. If you've lost one tooth, or even all of them, we can help you enjoy a complete smile again with implant dentistry.
The Dental Implant
Each dental implant is made of three parts. The implant portion is a small post that looks like a screw and is made from titanium. Since titanium is biocompatible, the body accepts it as natural tooth structure. The next part is the abutment, which is attached to the post and extends above the gum line. The part people see is the restoration. We will create a custom-made dental crown, one that is color matched to blend with your smile, and is able to absorb daily bite forces with ease.
Benefits for Your Smile
When we insert the post into your jaw, the body sees this is a natural tooth root. This prevents the loss of jawbone mass and density following tooth loss, so you don't lose additional teeth and your new one can stay in place for decades to come. This instantly halts the negative complications of untreated tooth loss. If we use several posts to support a denture, you have a prosthetic that never slips and never needs to be removed for cleaning or soaking, instead acting like natural teeth and restoring optimal function to your smile.
Getting Started
If you have missing teeth, then contact our team and schedule a visit. We will carefully examine your smile with digital x-ray and more to assess the cause and extent of your tooth loss, and to also choose the best angle and position to insert your new tooth. Whether you have one lost tooth, or have lost several, we can return your smile to optimal oral health, function, and beauty. If you have any questions about how we treat tooth loss, or about the benefits of the dental implant process, then contact our team today to learn more.
Talk To Your Sheridan, WY Dentist About Implant Dentistry
We would love to help you enjoy optimal oral health with our dental implants! You don't have to see your oral health suffer, and your quality of life decline. Instead, we can help you enjoy a full and beautiful smile, one that looks and functions like a natural one. To find out how our team treats the gaps in your smile, then reach out to Grinnell Street Dental in Sheridan, WY at 307-672-7567.