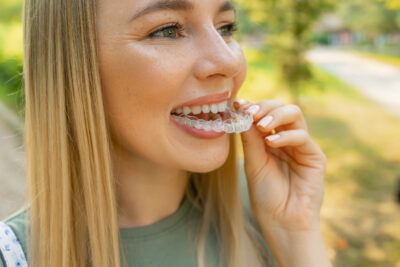 When you have dental misalignment, this could mean poor oral health and even embarrassment with your appearance. To avoid these, and avoid the need for wearing metal braces, you may want to consider Invisalign® aligners. In today's blog, your Sheridan, WY, dentist talks about clear smile correction and the long-term benefits of correcting your uneven smile with the Invisalign® system.
The Health Risks of Dental Misalignment
When we have uneven teeth, this obviously has a negative impact on our smile's esthetics. But misalignment also makes thorough brushing and flossing difficult too, which increases the risk of tooth decay and gum disease. The strain on your jaw joints and bite balance could make painful complications like TMJ disorder and bruxism (chronic teeth grinding) more likely as well. By correcting your misalignment, you help improve the function and health of your smile, while also enhancing your smile's beauty too.
The Invisalign® Process
Invisalign® is a treatment option that doesn't use metal brackets or wires. Instead, patients will wear a set of aligners for 20 to 23 hours a day for a period of about two weeks. At this point, the patients begin to wear the next set for the same period. The process continues for about a year to 18 months, depending on the extent of your misalignment. This means a shorter treatment time than braces, and Invisalign® also requires fewer office visits too. In addition to being clear, the aligners are also removable, so you don't have to change how you eat and brushing and flossing your teeth each day is much simpler.
Creating Custom Aligners
To ensure treatment with precision and accuracy, and a comfortable experience, we will custom-make each aligner, ensuring they're designed for your smile. To do so, we will take detailed digital images of your smile from multiple angles, and then combine them to create a 3D computer impression. In a lab setting, experts will use this impression to design your aligners. You can then begin a clear and barely visible treatment process to correct the overall alignment of your smile.
If you have any questions about how we treat poor alignment with a cosmetic approach, then contact our team today to learn more. You can also schedule a consultation to find out if this is the best option for you, and start your journey to an even smile in 2023.
Talk To Your Sheridan, WY Dentist About Treating Poor Alignment
Our team is eager to help straighten your smile in 2023 with a comfortable and cosmetic treatment option. To find out how we correct misalignment with a cosmetic approach using the Invisalign® system, then reach out to Grinnell Street Dental in Sheridan, WY at 307-672-7567.