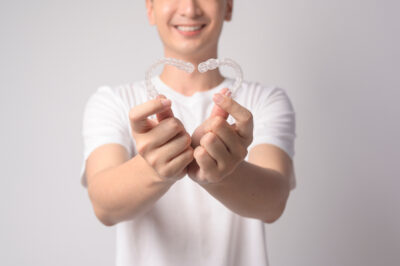 The problems you have with your poorly aligned smile may be easier to treat than you realize. Instead of agreeing to wear metal braces for an extended period of time, you can find that you are a good candidate for an adjustment with Invisalign aligners! By choosing to pursue treatment with these aligners, you can take on the issues that you have with gaps, overlaps, and other issues so that they no longer make you unhappy with how you look. Our Sheridan, WY dentist's office provides access to this and other beneficial cosmetic services. By inquiring about treatment options and sharing your goals for your smile, you can find you are closer to significant changes than you think possible!
Choosing A Discreet Means Of Straightening Your Smile
Metal braces are effective at bringing teeth into their appropriate alignment. This can certainly benefit your smile, but there are other benefits that you should know about when you take on this problem. Straighter teeth can offer a more even and comfortable bite. They can also make your oral hygiene efforts more effective, as you will have less difficulty reaching teeth that overlap. By asking your dentist about Invisalign aligners, you can find that you can see the benefits of traditional orthodontic work without being reliant on appliances that are fixed in place and difficult for others to ignore.
When You Begin Dental Work With Invisalign Aligners
Your dental work with Invisalign aligners will begin after you have your smile closely evaluated. The work of measuring your teeth and oral structures will both give insight into what adjustments you need and determine how your corrective work should proceed. There will be a set of aligners used to steadily move teeth that are improperly spaced. All of them are hard to see and easy to remove, which means that they minimize the impact of treatment on your daily life.
What Else Can You Do To Show Off A Better Smile?
There are several cosmetic dental procedures that we are ready to offer patients, including alternatives to Invisalign that can hide poor spacing. With porcelain veneers, we can take on an array of problems; their placement can hide blemishes, cover damages, correct problems with shape and size, and even cover some issues with gaps and overlaps. We can also target flaws by providing dental bonding services, which make improvements to teeth without the need for permanent restorations.
Talk To Your Sheridan, WY Dentist About Invisalign Treatment!
Through Invisalign treatment, our practice can take on problems with the way you look without requiring treatment with conspicuous metal braces. For more information on this and other services that we offer, reach out to Grinnell Street Dental in Sheridan, WY at 307-672-7567.