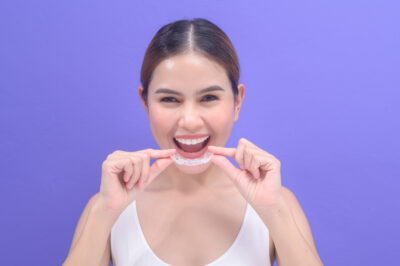 How comfortable are you with your smile? When you have issues with your appearance that are linked to poor teeth spacing, the idea of treatment can be appealing, though concerns about metal braces can make you less eager to discuss what services are available to you. Fortunately, traditional metal braces are not the only way to treat problems with malocclusion. If you want a more effective solution, talk to your Sheridan, WY dentist's office about Invisalign! With Invisalign aligners, you can make work to straighten your smile discreet, as people will have a difficult time seeing the aligners that you are wearing. An additional benefit to this approach is that it relies on appliances that are removable, which means they will not be in your way when you eat or clean your teeth.
Invisalign Provides A Patient-Friendly Alternative To Treatment With Metal Braces
If you have problems with teeth that are not properly spaced, you can feel embarrassed by your asymmetrical and awkward smile. You can also have concerns about how that poor spacing affects your bite function and dental health. Unfortunately, people who are affected by these issues sometimes avoid discussing their concerns because they do not want to rely on metal braces for treatment. An alternative to this approach does exist. With Invisalign aligners, you can correct problems with your poorly spaced smile without wearing a fixed, distracting appliance!
Beginning Your Care With Invisalign Aligners
Before your adjustment officially begins, we will evaluate your teeth and oral structures to capture necessary information about how your smile should be straightened. The information that we gather will inform the shape and size of your aligners as well as the progress made by each one that you receive. Each appliance in your set will be removable as well as difficult for people to see. You will wear each throughout the day for a recommended number of days. To keep up with smile care and maintain your natural diet, you are free to remove these appliances on your own.
Can Another Cosmetic Service Fix Your Spacing Troubles?
In some cases, there are other cosmetic dental procedures that we can recommend in order to fix problems with teeth spacing. Some problems can be resolved through the placement of porcelain veneers. These thin, durable shells manage to cover up many different issues, including dental damage and discoloration, so they can produce many exciting benefits!
Talk To Your Sheridan, WY Dentist About Treatment With Invisalign!
An adjustment that relies on Invisalign aligners can produce exciting improvements in a surprisingly short time. Your appliances can make orthodontic treatment easier and more conservative, but they can still produce desirable cosmetic and oral health changes. If you would like to learn more, please reach out to Grinnell Street Dental in Sheridan, WY at 307-672-7567.