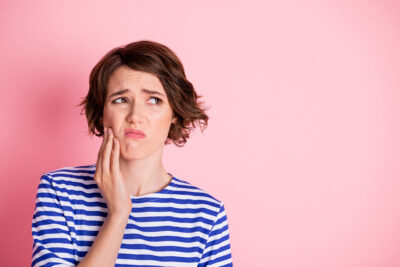 Having a persistent pain when you bite and chew, or experiencing resistance or stiffness during jaw movements, can make even a favorite meal feel like a daunting task. Problems with your jaw can point to an issue with TMJ disorder, which can become an issue when your joints are not moving in alignment. You can receive important care for this problem to stop it from creating further difficulties for you. At our Sheridan, WY dentist's office, we can provide a review of your bite function and jaw movement to see if this is something that we should address. If so, we can make recommendations based on your needs, and we can look out for any other oral health issues that might be connected to the matter.
Are You Experiencing Problems With Jaw Pain, Stiffness, Or Sensitivity?
If you regularly find yourself feeling pain or stiffness when you move your jaw, struggle with facial discomfort, or experience regular headaches, TMJ disorder can be the culprit. Beyond causing facial and jaw sensitivity, this is a problem that can lead to difficulties with uneven wear and tear on teeth, neck and shoulder discomfort, and the onset of persistent teeth grinding issues. Letting your dentist know about these kinds of symptoms can lead to timely care and the prevention of further complications.
Reach Out To Discuss Your Concerns About TMJ Disorder
Our practice can evaluate you to see if TMJ disorder is a problem that you will need to resolve. Based on what we find, we can determine if you should proceed with care to ease tension and improve the alignment of your jaw. Custom appliances have proven effective at helping patients manage this problem. With yours, you can guide your lower jaw into a more appropriate position and grow more comfortable biting and chewing in a way that is less stressful.
The Link Between Your Dental Health And Your Bite Function
It may be difficult for you to fully regain a healthy and natural bite movement because you have other problems with your teeth. This could be a matter of poor dental alignment, something that can negatively impact your dental function. If so, we can recommend care with clear aligners to help. For individual teeth that are not able to absorb bite pressure in a way that you require, we can recommend the placement of custom dental crowns.
Talk To Your Sheridan, WY Dentist About Your Jaw Troubles
Through treatment for your ongoing jaw troubles, you can find that TMJ therapy eases tension and corrects imbalanced movements that have created problems for you. If you would like to find out more about what we can do to help you live without discomfort, or if you have questions on any other oral health matters, reach out to Grinnell Street Dental in Sheridan, WY at 307-672-7567.