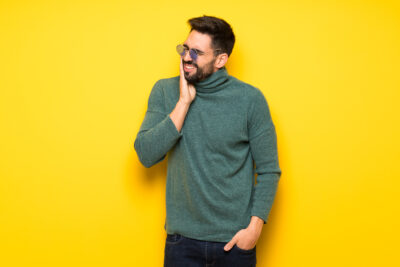 By disregarding the worrying onset of jaw pain and stiffness, you can disregard warnings that your jaw alignment has a problem that needs to be addressed. Letting the trouble continue to go untreated can lead to more discomfort due to jaw stiffness and pain, headaches, difficulties with teeth grinding, and other problems. At our Sheridan, WY dentist's office, we can identify signs of TMJ disorder, a problem with joint alignment and movement, and from there we can discuss an effective treatment. The sooner you look into care for this issue, the sooner you can make sure that it no longer creates issues for you in your daily life!
Should I Start To Worry About My Oral Health Because Of My Jaw Pain?
While a cavity creates problems specific to one tooth, issues with your jaw alignment and movement can lead to discomfort in several areas. The joints themselves can feel painful and stiff, and you can also deal with more frequent headaches, a tendency to grind your teeth, and even concerns about neck and shoulder discomfort. These are all issues that can be traced back to TMJ disorder, which refers to trouble with poor joint alignment and movement. As long as this issue remains unaddressed, it can lead to progressively worse feelings of pain, and it can make you vulnerable to dental damage through teeth grinding.
Beginning TMJ Therapy To Take Care Of Ongoing Pain Issues
When problems with your jaw health and movement are recognized, TMJ therapy can begin. Our practice can provide help in the form of a custom guard that helps you adjust to a better resting position. Keeping your lower jaw in a better position can help you reduce stress on joints and muscles, and it can make it easier to return to a more natural bite function. If necessary, we can discuss oral health services that can ensure you have no problems putting pressure on certain teeth.
Is A Problem With Poor Dental Health Making It Harder To Put Pressure On Certain Teeth?
If you have unhealthy teeth or missing teeth, you can have a harder time biting and chewing in a way that feels natural and comfortable. Until you do something about this, it can be difficult to fully resolve problems with TMJ disorder. We can assess whether you have a need for dental crowns, and we can also plan prosthetic treatment with dental bridges or implants.
Talk To Your Sheridan, WY Dentist About Treatment For TMJ Disorder
The sooner you take on problems with TMJ disorder, the sooner you can put several forms of discomfort out of your daily life. For more information on the services that our practice can offer, please reach out to Grinnell Street Dental in Sheridan, WY at 307-672-7567.