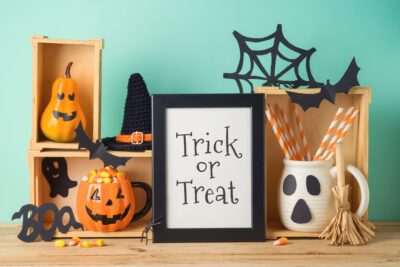 What are you planning for Halloween? Hopefully, you have an evening full of spooky fun to look forward to, but if your night ends with a dental injury because of a piece of hard candy, your plans can take a scary turn! Hard candies are risky for more than just their sugar, as they can do real damage to dental enamel. If you end up causing a chip or crack in a tooth because of an unlucky bite onto a tougher treat, know that your Sheridan, WY dentist's office is prepared to help. When you come in for treatment, we can look at the problem and find an effective long-term solution.
One Unlucky Bite Into A Hard Candy Can Lead To Dental Trouble
Candy at Halloween can be a problem because we end up exposing our teeth to more sugar than normal, which makes cavity issues more likely to occur over time. However, not every issue with candy worsens gradually; if you bite into a harder piece of candy, you can experience immediate concerns over dental damage! If this occurs, you should have the problem evaluated promptly. Without timely care, you can end up with more damage that will have to be addressed.
Using A Lifelike Dental Crown To Restore Your Vulnerable Tooth
For teeth that need protection, lifelike dental crowns can have real value. They offer the kind of full coverage that lets you bite and chew without worrying over the state of your enamel, and they can provide coverage that preserves how you look! Our practice can actually make care more convenient to you by using CEREC technology to craft and place crowns made on-site in just one appointment. Because this timely support is available, you can look forward to treatment without a frustrating delay to wait for a custom restoration.
Can I Pursue Cosmetic Treatment For A Dental Injury?
There are times when dental injuries can be addressed with more conservative cosmetic dental treatments. What this means is that you can preserve more of your tooth structure while still addressing the effect of a chip or crack on your smile. With a dental bonding treatment, or through the placement of a porcelain veneer, we can see to it that your smile is restored!
Talk To Your Sheridan, WY Dentist About Treating Your Broken Tooth!
If your Halloween ends unpleasantly due to dental damage, our practice is prepared to help you! Based on the state of your hurt tooth, we can provide results with either a cosmetic dental procedure or restorative treatment. If you would like to learn more about how we can take care of you when you have a tooth injury, please reach out to Grinnell Street Dental in Sheridan, WY at 307-672-7567.