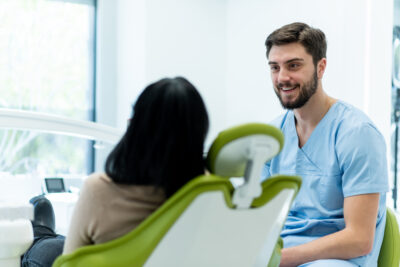 When you go in for your next routine dental exam, you may have certain lingering questions that you would like to address with your dentist. Sometimes, this refers to possible problems that you hope to discuss. At other times, it can be because you are interested in learning how you can make your smile more attractive. At our Sheridan, WY dentist's office, we can offer guidance to you on these different matters. During your routine visit, we can take the time to discuss your smile goals and concerns with you, and we can provide important feedback regarding the state of your smile.
Are There Smile Concerns That You Would Like To Discuss With Your Dentist?
At a routine dental checkup, you receive important information regarding your oral health and smile. Your dentist will check you closely for signs of dental decay or other threats to teeth, and they will also review the health of your gums and oral structures. These reviews, along with the cleanings that are provided by your hygienist, will help you maintain your smile over time. While these services are important on their own, remember that a routine visit is also your chance to make sure you are fully informed about the state of your smile. We can address concerns that you have about your appearance, or we can talk to you about any concerns you express over discomfort and other signs of oral health trouble.
Discussing Problems With Pain And Concerns About Your Oral Health
If you have concerns over jaw pain, sensitivity, or tooth discomfort, let us know! While problems can be discovered through a review, symptoms of any possible problems should be brought to our attention. By saying something about a potential issue, you can make sure it is evaluated so that treatment can be provided. In addition to finding problems with cavities that we can treat, we can also look out for issues like TMJ disorder which can impact your quality of life negatively.
Discussing Your Goals For Cosmetic Smile Care
While your smile may be healthy, it could be less attractive than you like. This is an issue that we can take up by providing options for cosmetic dentistry. Discussing these different services can help you learn about procedures that take on concerns about discoloration, minor dental damage, issues with teeth spacing, and other sources of concern.
Talk To Your Sheridan, WY Dentist About Your Smile And Oral Health At Your Next Dental Exam!
At your next routine visit, know that our practice is ready to talk with you about your oral health and cosmetic concerns. In doing so, we can find effective treatments that give you renewed confidence in your appearance and well-being! If you would like to find out more, contact Grinnell Street Dental in Sheridan, WY at 307-672-7567.