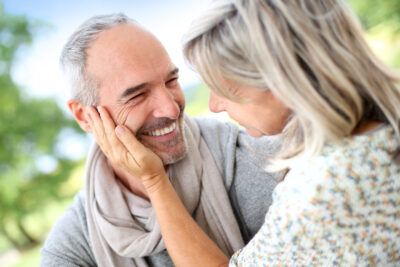 What can you gain immediately after your dental implant-held restoration is placed? Upon that placement, you can feel more comfortable with your smile, as it can once again be free of that conspicuous and embarrassing gap left by your lost tooth. You can also find that you feel more comfortable biting and chewing food, as it will be stable enough to support these functions. In the long term, there are additional benefits to enjoy. They include the benefit of having more stability for neighboring teeth, keeping them secure with greater ease. In time, your implant also helps you by stimulating and preserving the health of your jaw. At our Sheridan, WY dentist's office, we can help you understand the positive impact of this and other services intended to restore the health and cosmetic quality of your smile!
Implant Dentistry Offers More Than Just A Better Smile
With implant dentistry, patients gain more than just the cosmetic benefits of prosthodontic treatment. As happy as you can be to have your smile fully restored, you should know that fully dealing with tooth loss means dealing with its effect on your bite function and overall oral health. One reason this can prove difficult is that a prosthetic appliance by itself can only replace the portion of your tooth visible above the gumline. With an implant present, you can fulfill different responsibilities that were previously handled by your roots, leading to more oral health benefits.
Arranging Prosthetic Dental Work
The right prosthetic procedure can help you feel better about your smile as well as your dental health. After we confirm that you are a good candidate for treatment with a dental implant, we can discuss the care involved. You will first receive the implant itself, which is carefully placed in your jawbone through surgical treatment. After this is done, you will return to our office after healing so that you can have your prosthetic tooth set in position. At this point, you can marvel at how your smile has improved, and you can enjoy the benefits of better bite strength and dental health!
Taking On Multiple Dental Health Issues
Because tooth loss can make people vulnerable to different issues, you may have more to gain from smile care—with a full-mouth rehabilitation plan, we can help you address all of the problems that currently affect you. The plan will be personalized both to make sure it addresses all of your issues and so that it fits your schedule and needs!
Talk To Your Sheridan, WY Dentist About Implant Dentistry
Through implant dentistry, we can help you take on the potentially significant effects of tooth loss, and we can do so with a focus on more than just addressing how the problem has changed your smile. If you would like to find out more, reach out to Grinnell Street Dental at our location in Sheridan, WY at 307-672-7567.