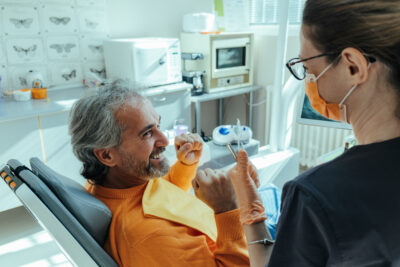 You can feel uneasy about the news that you need treatment for a "serious" oral health issue. However, you should know that this kind of care can be easier to access and enjoy than you expect. At our Sheridan, WY dentist's office is prepared to help you resolve problems with your appearance and well-being when something is wrong. We can work with you to make sure that your needs are fully addressed when you have an issue with a tooth, or when you have concerns about several teeth. By outlining your needs in a full-mouth rehabilitation plan, we can make services feel more accessible even when your needs include several procedures.
Are You In Need Of Advanced Smile Care?
Whether you have a significant problem with one tooth or need to take on several issues with your smile, we can make advanced smile care feel more accessible. First, we can help you understand what it is you are dealing with, as well as what service or services you might need to put the problems behind you. If you need to arrange several procedures, we can work out the schedule so that you do not feel intimidated or uncomfortable with what is asked of you. You can feel more comfortable with treatment when you find that even advanced restorative care can preserve your appearance as well as your health.
Working Out A Plan To Take On All Of Your Oral Health Issues
By creating and sticking to a full-mouth rehabilitation plan, we can make it easier for you to resolve all of the problems with your appearance and well-being. We can start the plan by taking on the most significant threats to your well-being. Replacing or restoring those teeth that are infected or broken can lead to more comfort and positive changes in the way you look. From there, we can take on less severe but still worrying issues like dental decay and trauma. We can also make plans to address issues with TMJ disorder that impact your quality of life.
Tackling Cosmetic And Oral Health Concerns
With the right restorations, we can actually preserve your smile while we take care of oral health matters. We can provide dental fillings and dental crowns that actually imitate healthy enamel, which means you can feel better about the way you look after work is completed. When it comes to care with dental crowns, we can use CEREC technology to have restorations ready for patients in just one appointment!
Talk To Your Sheridan, WY Dentist About Your Oral Health!
By talking with us about your oral health concerns, you can learn what can be done to fully address your smile needs! We are happy to walk you through care for one problem or many in order to give you renewed confidence in your appearance and well-being. If you would like to find out more about how we can help you, reach out to Grinnell Street Dental at our location in Sheridan, WY at 307-672-7567.