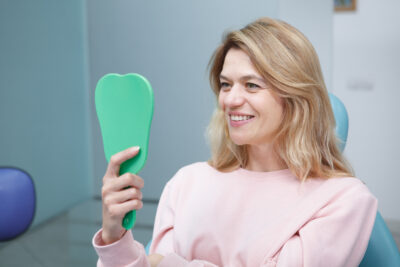 If you find out you have a cavity during a routine dental appointment, your dentist can talk to you what treatment is appropriate based on the state of your tooth. For many people, problems with decay are caught in time to make fillings the effective treatment option. When patients at our Sheridan, WY dentist's office discover that they need this service, they can learn that our approach to care can actually preserve the appearance of their tooth while also keeping it safe from harm! As a result, they can feel more comfortable with treatment, as it will offer both functional and cosmetic benefits. We can also preserve your appearance if you need a dental crown.
Why Are Dental Fillings Included In Cavity Treatment?
When you have a cavity treated, you should know that your dentist will have to address irreversible damage to your enamel. This is true even when the damage is mild enough to be treatable with a small filling. What a filling does is cover the affected area to both keep bacteria out and preserve the functional strength of your enamel. While different materials have been used to provide this kind of restoration over time, patients at our practice can enjoy treatment with a filling made from a composite resin material that actually imitates their healthy enamel! Because of this, the procedure will protect you without changing your smile, even when you have work done in a conspicuous area.
Receiving Your Lifelike Dental Filling
Before your dental filling is placed, the infected area will be cleaned and the damaged structure will be removed. Once we are done with this, we will apply the resin material. It is biocompatible, which means it will bond to your surrounding tooth structure to create a remarkable and lasting bond.
We Can Also Place Attractive And Durable Dental Crowns
There are times when cavities are too destructive to make fillings effective as treatment. In these situations, we will instead use dental crowns. Because our practice uses dental crowns made with CEREC technology, we can have lifelike restorations ready in just a single visit, making our approach to care more convenient than what many other practices offer.
Talk To Your Sheridan, WY Dentist About Treatment With A Lifelike Dental Filling!
If you find yourself in need of cavity treatment, it can be reassuring to know that a dental filling can be placed to provide functional support without changing your smile! Our practice is happy to take on problems with decay while prioritizing your appearance as well as your well-being, and we can offer preventive services to help you avoid future issues that might require restorative care. If you are ready to find out more about how we can take care of you, reach out to Grinnell Street Dental at our location in Sheridan, WY at 307-672-7567.