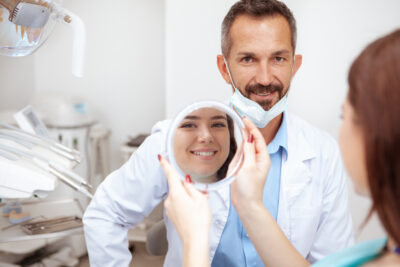 There are several actions you can take to reduce your risk for oral health problems. Keeping up with consistent dental exams is important, and so is a commitment to oral hygiene on a daily basis. With that said, our Sheridan, WY dentist's office understands that many people can find themselves in situations where they are vulnerable to not just one but several problems. Our practice is prepared to help you take care of your smile when you need more than one restorative service. Through full-mouth rehabilitation, we take individuals with several concerns through their needs, and we help them plan out their necessary procedures so that they are all effectively managed!
When Your Smile Requires Several Services
If you have several cavities, or a combination of tooth decay and other concerns, your needs for dental work may call for several services and appointments. Unfortunately, even though people in these situations can recognize their need for care, they may feel intimidated by what their treatment requires, making them hesitant to move forward with care. We want our patients to know that we are here to help them navigate questions and concerns. By beginning plans for a full-mouth rehabilitation, we can both help you understand why different services are required and what you can do to make sure you can successfully arrange them.
Planning Treatment To Restore Unhealthy Teeth
Problems with unhealthy teeth call for the placement of permanent restorations. Unfortunately, cavities and physical injuries can leave us with irreversible enamel damage. To treat these damages, we can provide dental fillings and dental crowns that offer functional support as well as the ability to preserve your smile. Our dental crowns can actually be placed in less time than you expect, as we use digital imaging technology and an in-office milling machine to craft them at our location. This can shorten the time it takes for you to receive necessary support for vulnerable teeth.
Including TMJ Treatment In Plans To Improve Your Oral Health
Your full-mouth rehabilitation can call for more than just care that is provided to individual teeth. You may also have a need for treatment to ease the tension and pain from poor jaw alignment and movement. For those who have this issue, TMJ therapy can certainly be beneficial. Correcting your bite movement, along with the resting position of your jaw, can lead to a reduction in joint stiffness and pain, headaches, and other forms of discomfort.
Talk To Your Sheridan, WY Dentist About Responding To Multiple Oral Health Concerns
Through your full-mouth rehabilitation, we can help you work through all of the problems that currently affect your appearance and oral health. If you would like to learn more, contact Grinnell Street Dental at our location in Sheridan, WY at 307-672-7567.