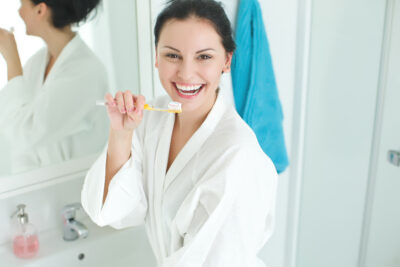 Are you practicing the right behaviors to keep yourself safe from oral health threats like tooth decay and gum disease? One way to protect yourself is to set up regular preventive dental appointments. When you do so, you ensure that you will have regular feedback from your dentist, which includes early warnings about trouble with decay and gingivitis. Our Sheridan, WY dental practice is happy to provide ongoing reviews as well as thorough teeth cleanings. While these visits certainly matter, you should do your part to protect your smile by keeping up with effective brushing and flossing habits.
How Effective Is Your Current Smile Care Routine?
Is your daily routine really going to protect you against threats like tooth decay and gum disease? It is important that you maintain habits that are thorough enough to care for hard-to-reach areas and consistent enough to keep bacteria and food debris off your smile. If you fall short, plaque and tartar deposits can form and make you more likely to have difficulties with your well-being. Changing up your routine can have many benefits. With that said, remember that even great habits do not remove the need for preventive dentistry!
Better Daily Behaviors For Your Oral Health
If you want to avoid problems that require dental fillings and other treatments, keep up with good daily behaviors when it comes to smile care. Give yourself enough time when you brush to clean even those hard-to-reach spaces, and make sure you work to clean the spaces between the cusps of your back teeth. With that said, you do not need to use aggressive brushing habits to clean areas properly. In fact, too much aggression can lead to early enamel erosion! To further protect yourself, make sure you floss at least once a day, as this will keep you safe by clearing out bacteria and food particles between teeth.
Take Advantage Of General Dental Visits
At your general dental visits, your teeth are cleaned and examined so that you can receive protection as well as important feedback about your oral health. During a routine review, we will look out for any warning signs of dental decay, and we can warn you about problems with your gums that might require attention. By providing care before there are complications, we can preserve more of your tooth structure and make your procedure more conservative. When your teeth are cleaned, you have harmful plaque and tartar removed so that these deposits are no longer going to hurt your smile.
Talk To Your Sheridan, WY Dentist About How You Can Protect Your Teeth And Gums
With a combination of good habits at home and in-office support, we can make sure that you have the right protection against threats to your teeth and gums. If you would like to find out more, please reach out to Grinnell Street Dental at our location in Sheridan, WY at 307-672-7567.