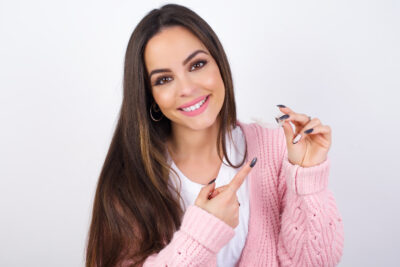 As long as your teeth appear to be awkwardly spaced, you can have a difficult time feeling truly comfortable with your appearance. Difficulties with smile spacing can be addressed with a surprisingly conservative approach to orthodontic work. Rather than spend an extended length of time with metal braces, our Sheridan, WY dental practice can recommend that you begin an adjustment with Invisalign appliances! With these clear aligners, you can move teeth that are out of position with minimal impact on your appearance, and without having to make adjustments to your daily life. Because this is only one of several procedures we offer that can make lasting smile improvements, you can rely on us for support if you have different concerns about your appearance.
Poor Teeth Spacing Can Negatively Impact Your Appearance And Dental Function
Poorly aligned teeth can be a source of embarrassment. When there are visible gaps or overlaps that you reveal whenever you smile and speak, it can be tough to maintain confidence in the way you look. Unfortunately, this is more than just a cosmetic problem. If your teeth are not evenly spaced, you can have problems with your bite function, and areas of your smile can prove more difficult to keep clean. By starting an adjustment with Invisalign aligners, you can make meaningful changes to the way you look and address these potential oral health issues!
Planning Your Personalized Treatment With Invisalign
By starting treatment with Invisalign, you can begin a process to gradually straighten your smile and improve how it looks. The procedure relies on a set of aligners, with each one bringing your teeth closer to where they should be situated at the end of care. Wearing your designated appliance throughout the day will help you stay on track with your adjustment end date. With that said, you can take these aligners out at times when you need to eat or clean your teeth. What this means is that in addition to avoiding cosmetic issues, Invisalign helps you avoid problems with your daily routine that you might expect to have during orthodontic work.
Learn About Additional Services To Improve Your Smile
There are different services that we offer to patients who want to feel better about the way they look when they smile and speak. To make significant changes after your procedure concludes, you can follow Invisalign treatment with a teeth whitening procedure! We can sometimes help individuals embarrassed by spacing flaws through the use of porcelain veneers or a dental bonding procedure.
Talk To Your Sheridan, WY Dentist About Using Invisalign Aligners
With your Invisalign aligners, you can put problems with your appearance behind you as you make your smile straighter and more attractive! If you would like to find out more, please reach out to Grinnell Street Dental in Sheridan, WY at 307-672-7567.