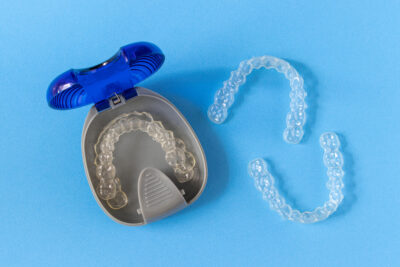 As long as you can see your issues with poorly aligned teeth, you can have a hard time feeling confident in your appearance. The presence of gaps and overlaps can interfere with smile symmetry, creating an unwanted issue with the way you look that you want to put behind you. What you should know is that putting these problems behind you can be easier than you realize, as you may be able to move forward with Invisalign treatment. At our Sheridan, WY dentist's office, we can provide Invisalign as a treatment option for many of our patients. With these clear aligners, you can move teeth that currently look awkwardly out of place without having to wear metal braces that can feel distracting and difficult to adjust to.
Are You Bothered By The Way Your Teeth Are Aligned?
Even if you only have minor issues with the way your teeth are aligned, it can be difficult to ignore how this problem impacts your appearance. Gaps and overlaps that exist between teeth can be a source of concern and frustration. You can also feel put off if your poor alignment makes your smile seem asymmetrical. Through the right treatment, these are issues that you can put behind you. In fact, you can actually see desirable changes with discreet appliances that are both hard for others to see and easy for you to remove!
Beginning Your Procedure With Invisalign Aligners
Once you receive approval for the use of Invisalign aligners, we can prepare you for treatment. You will receive a set of aligners that are custom-made to fit your teeth and provide successive adjustments. When in position, they encourage careful movements that close gaps, straighten out overlaps, and generally bring teeth to the right positions. Each one that you rely on will be easy to remove, which means they will not be in your way whenever you need to eat or clean your smile.
Reviewing Other Options For Cosmetic Treatment
There are other services that can sometimes help hide the negative effects of malocclusion on your smile. One option is to cover teeth with porcelain veneers. If you qualify for this approach, we can hide gaps and overlaps by using custom restorations for lasting coverage. These thin shells are custom-made to be placed directly on the front surfaces of teeth. Another option is tooth bonding treatment, a service that can hide certain flaws with the shape, size, and color of teeth without the use of restorations.
Talk To Your Sheridan, WY Dentist's Office About Invisalign Treatment
With Invisalign treatment and other cosmetic services, we can address the esthetic effects of malocclusion without asking you to wear conspicuous metal braces for an extended length of time. If you would like to learn more about how we can help you, please call Grinnell Street Dental in Sheridan, WY at 307-672-7567.