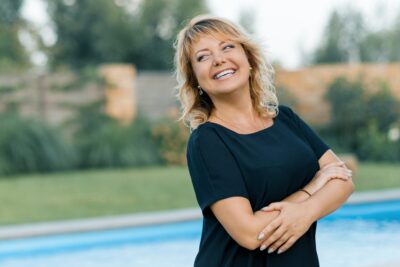 Your smile can certainly stand out among your features, but unfortunately, flaws that affect it can stand out, too. Does this mean that you simply have to accept that people will notice the problems you have with the shape, size, and color of your teeth? While they may draw unwanted attention today, they do not have to remain an issue for you, as the right cosmetic procedure can effectively cover them. At our Sheridan, WY dentist's office, we provide different cosmetic services to patients who feel self-conscious about the way they look. With porcelain veneers, we can take on many problems at once, so you can see all of your desired changes in a limited time. These restorations cover the front surfaces of your teeth in order to positively change your smile color, address damages to your enamel, and even hide problems with spacing!
Are You Tired Of Feeling Self-Conscious About Your Smile?
If you want to feel better about the way you look when you smile and speak, veneers can certainly benefit you. This one cosmetic service can take on many problems at one time. As a result, you can move past all of these issues in a shorter time than you anticipate. Veneers provide enough coverage to prevent concerns about discoloration, damage, poor shape and size, and other flaws from causing you any further concern. While they provide this kind of lasting support, they only require limited changes to your tooth structure, making treatment more conservative than you anticipate.
Planning Your Cosmetic Procedure With Porcelain Veneers
Your planned treatment with porcelain veneers will take place over two appointments. The first visit is important because it gives us the opportunity to plan your personalized care. This calls for the careful measurement of your teeth as well as preparatory work to make sure there is room for them to fit and look natural. At a follow-up appointment, these restorations are put in place to hide flaws that affect your smile. The bonding process this requires is permanent, so you see lasting results from your treatment.
We Have Different Options For Treatment If You Want To Improve Your Smile
There are different solutions we can recommend to patients who want to change their appearance when they smile. If you want to look at a more conservative treatment option, we can provide support through dental bonding services that hide multiple flaws. If you have problems with your tooth structure that affect your bite function and oral health as well as your smile, we can use lifelike dental crowns to take care of your teeth.
Talk To Your Sheridan, WY Dentist About Treatment With Veneers
With custom porcelain veneers, we can take on problems with your smile that negatively impact your appearance and lower your confidence! To learn more, please reach out to Grinnell Street Dental in Sheridan, WY at 307-672-7567.