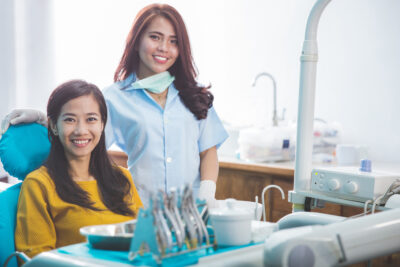 Is convenient treatment really an option when your tooth needs the support of a dental crown? These restorations have to be carefully designed to provide the right support for a patient. The right one can imitate your enamel to provide cosmetic benefits. It should also boast the right shape and size to make sure that your neighboring teeth are not affected by its presence, and that it remains secure enough to support your bite function. At our Sheridan, WY dentist's office, we can provide this kind of support with a crown that we can craft and place in just one appointment! With CEREC technology, we have the means to measure your tooth, design your crown, and put it in place in less time, offering a convenient solution as well as one that you can count on to provide lasting coverage.
We Make Important Restorative Work More Convenient
Arranging treatment for a potentially serious dental health issue is important. Once a problem occurs, either because of decay or an injury, your tooth will remain vulnerable, and its condition can grow worse over time without the right intervention. When you do arrange treatment, you can receive protection to prevent further problems as well as coverage to preserve your smile. Because our practice relies on CEREC technology, you can also enjoy a convenient approach to care, even when you need the support of a full crown to keep your tooth safe.
Arranging Your Treatment With Your CEREC Crown
The process of placing a CEREC crown starts with preparatory work. We can use digital technology to carefully evaluate your tooth to determine what shape and size your restoration should be. From the information that we gather, we will be able to craft a durable and lifelike restoration that is made to imitate the appearance of the tooth. After the design is ready, we can craft the crown with our in-office milling machine! At this point, your treatment can be completed, and you can leave our office with permanent protection in place.
What Else Can Your Dentist Do To Restore Your Smile And Oral Health?
Remember that timing matters when it comes to treating problems, particularly when it comes to dental decay. When a cavity is caught in time, it can be addressed through the placement of a dental filling, a more conservative treatment approach that preserves more of your enamel. When a filling is put in position, it only covers the area where decay formed, and leaves the surrounding structure intact.
Talk To Your Sheridan, WY Dentist About Treatment With A CEREC Crown
Thanks to our CEREC technology, you can have a permanent dental crown put in place in as little as one visit. If you would like to find out more, please reach out to Grinnell Street Dental in Sheridan, WY at 307-672-7567.