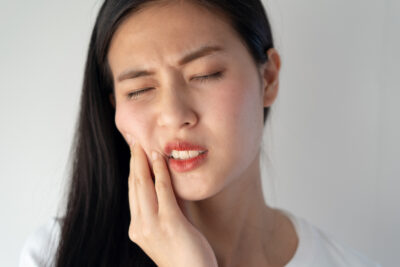 If you live with a persistent problem with jaw stiffness and pain, you should know that treatment is available. By addressing TMJ disorder with your Sheridan, WY dentist, you can receive help to correct an imbalance in your jaw alignment and bite function responsible for ongoing stiffness, pain, and even problems like headaches and neck and shoulder discomfort! We can provide an evaluation to confirm that your troubles are linked to an issue with uneven movement and/or jaw alignment. From there, we can provide a custom appliance that corrects imbalances and reduces the tension that has affected your quality of life.
Living With Untreated Jaw Problems Can Lead To Chronic Discomfort
The longer you wait to address problems with your jaw movement and position, the more time you spend with limited bite function, chronic pain, and potential problems with teeth grinding and clenching. There are different reasons why people develop the kind of alignment issues that cause them active pain and limit their jaw movement. The good news is that when an imbalance is identified, treatment to correct it can have positive benefits that improve your quality of life. In addition to using appliance therapy to correct problems, we will look out for any issues with individual teeth that stop you from maintaining an even bite.
Let Your Dentist Know That You Have Issues With Jaw Pain And Stiffness
Once you bring up your issues with jaw pain and stiffness, we can begin to work with you on corrective care for TMJ disorder. To correct poor alignment, we can have a custom appliance crafted that keeps your jaw held in place to reduce stress and ease problems that you are experiencing. By wearing it, you can enjoy welcome realignment that encourages better, more comfortable movement.
Restoring Teeth To Make Sure They Contribute More To Your Bite Function
Your inability to bite and chew without discomfort could be partially caused by issues with teeth that are in poor health, damaged, or just too small to provide needed pressure. Dealing with these issues can lead to positive functional changes. We can provide dental crowns that are custom-made to help you in as little as one appointment, as we rely on CEREC technology to make these restorations. In addition to providing bite support, they can improve your appearance, as they are made with a ceramic substance that imitates healthy enamel.
Talk To Your Sheridan, WY Dentist About Your TMJ Issues
Ongoing struggles with TMJ disorder can become a serious issue for your quality of life, one that makes different types of pain a daily issue. The sooner you bring up this matter with your dentist, the sooner you can learn about the treatment that is available to you. If you would like more information, please reach out to Grinnell Street Dental in Sheridan, WY at 307-672-7567.