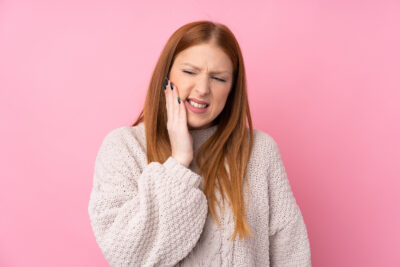 Through treatment for TMJ disorder, you can put an end to ongoing issues that you have with stiffness in your jaw, pain during basic dental movements, and even issues with headaches, teeth grinding, and other sources of discomfort. Bringing your current struggles with these and other bite-related issues with your Sheridan, WY dentist can mean the start of care that improves your quality of life. In addition to providing a custom appliance to help with alignment and movement issues, we can check you for signs of oral health trouble that make it harder for you to bite and chew in a normal, comfortable way.
Are You Experiencing Problems With Jaw Pain, Stiffness, And Sensitivity?
You should take the issues you have with jaw pain, stiffness in bite movement, more frequent teeth grinding, and even problems with more regular headaches as signs of TMJ disorder. As these issues persist in affecting your quality of life, they can become harder to ignore, and they can become more difficult to live with. Fortunately, once you do bring this matter up with your dentist, you can begin work to correct problems with uneven joint alignment and movement that contribute to your troubles. The good news is that we can look out for early warning signs during your regular dental exams, which will help you avoid potential complications.
Planning TMJ Treatment With Your Sheridan Dentist
TMJ therapy with a custom oral appliance can improve your quality of life. You will receive a custom appliance that is designed to keep your jaw in a more comfortable and better-aligned positioned. This relieves tension on your joints and muscles, reducing discomfort and encouraging better movements. Over time, this improvement in your alignment can make it easier for you to go about your daily life without the aches and pains that have impacted you.
Has A Problem With Your Oral Health Made It Harder To Maintain A Natural Bite?
Due to unresolved oral health issues, some patients can have a difficult time using an even biting and chewing motion. As a result, they can cause TMJ problems for themselves, leading to new problems that need to be dealt with. When treating you for jaw troubles, we can look out for any teeth that need to be restored with dental fillings or dental crowns to help you regain a comfortable, even bite.
Talk To Your Sheridan, WY Dentist About TMJ Treatment
Through TMJ treatment, we can help you take care of an issue that has negatively impacted your daily life. In addition to directly addressing a problem that you have with your jaw movement, we can look out for problems with the health of your teeth that might impact how you bite and chew. For more information, please reach out to Grinnell Street Dental in Sheridan, WY at 307-672-7567.