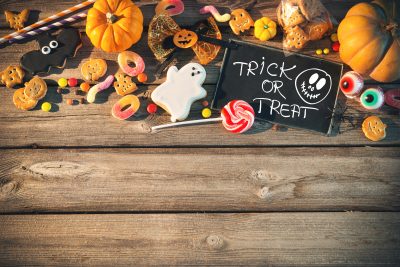 We often think about the risks that kids have for cavities around Halloween, but they are not the only ones who need to be careful during this holiday. Let's face it, adults can have a hard time turning down treats, too, which means you may have more sugar on a typical day in the leadup to the holiday. To protect yourself against an elevated cavity risk, be thoughtful about both your oral hygiene routine and your overall diet decisions. You should also make sure that you have your next preventive dental appointment set. At our Sheridan, WY dentist's office, we can provide important services to help you control your cavity risks, and we can offer timely care if a problem is identified.
Adults Need To Be Careful About Their Halloween Snacking, Too
Stocking up on Halloween candy weeks before the holiday is responsible, but it means bringing more sugar into your home, something you may have trouble leaving untouched. Many people enjoy indulging their fondness for sweets at times when they are readily available, but you may consume more sugar this time of year than you realize. As a result, you can have a higher overall risk for dental decay! Beyond just thinking about how you can control your snacking before Halloween, this is a good time to think about how you can improve your smile care routine now and in the future.
Is It Time To Change Up Your Daily Smile Care Routine?
If you want to avoid the kind of problems that lead to the placement of dental fillings and dental crowns, be thoughtful about your smile care routine. By thoroughly brushing and flossing, you will control the accumulation of oral bacteria and also clear away the debris left by meals and snacks. Give yourself at least two minutes to brush, as this will give you time to reach and carefully clean every part of your smile. Flossing every evening will protect those spaces where you will have a more difficult time cleaning with your toothbrush.
Take Advantage Of The Professional Services Provided By Your Dentist
Even if you have full confidence in your smile care routine, you should take advantage of the general dental services provided during routine exams. At these appointments, you undergo a thorough examination as well as a professional cleaning that will remove the plaque and tartar deposits that make you vulnerable to oral health difficulties.
Talk To Your Sheridan, WY Dentist About Protecting Your Smile
The right habits are important all year long if you want to avoid problems with cavities. What you should remember is that even small changes in your diet, such as the introduction of Halloween candy, can make your normal efforts at preventive care less effective. Making smart choices at this time of year will be particularly important. If you want to make sure your smile is in good shape, and that you have no issues with decay that need to be addressed, please call Grinnell Street Dental in Sheridan, WY at 307-672-7567.