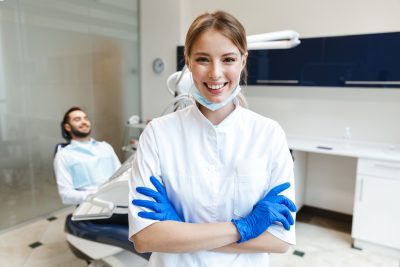 When it comes to preventing cavities, you obviously have a role to play. Hopefully, you are taking advantage of the services you receive at routine dental exams and cleanings so that your dentist can also do their part to care for your teeth. Our Sheridan, WY dentist's office is ready to help people in and around our community protect their enamel from the effects of decay. Our general services provide regular protection so that you are less likely to experience issues because of plaque and tartar buildup. Of course, we are also prepared to help you when you need work done to address a cavity that has formed since your last dental visit.
What Can Your Dentist Do For You If You Have A Cavity?
Reliable access to cavity treatment is important. You should be aware that if you do not act in time to schedule treatment, a problem can actually grow worse, leading to complications that demand more involved work. We can restore your tooth with a lifelike dental filling or dental crown when you come to see us for help with decay. Fillings only cover the area where decay formed, while crowns provide full coverage above your gum line. You can be happy to know that our fillings and crowns are capable of imitating healthy enamel, so treatment can occur without changing your smile.
What Can Your Dentist Do To Help You Avoid Future Cavities?
Every regular appointment provides valuable protection against problems that can lead to dental decay and gum disease. This is because your routine visits include teeth cleanings that remove tartar and plaque buildup. We can provide additional help by evaluating your teeth and gums to see if there are any issues that already require our attention. As unhappy as you may be to hear that you have a cavity, you can prefer to have the problem treated when you only need a filling, as this spares you from complications that can lead to a painful tooth infection.
Taking Care Of Your Smile Between Exams
It is important that you do your part to keep your smile healthy between regular visits. Brushing and flossing thoroughly and consistently lowers your risk for letting tartar form on your teeth, and makes you less likely to experience issues that require professional treatment. To provide even more support, make sure you regularly keep up with a diet that limits your exposure to high amounts of sugar.
Your Sheridan, WY Dentist Can Address Your Cavity Concerns
Regular visits with your dentist can help you avoid difficulties with tooth decay and other oral health concerns. If you are currently worried that you may have a cavity, or if you have questions about any other matter related to your smile, please call Grinnell Street Dental in Sheridan, WY at 307-672-7567.