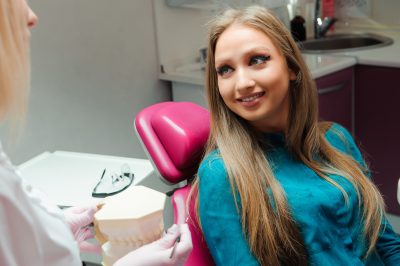 A lifelike dental filling is something that you can count on to restore your smile and protect your tooth from further harm. In other words, it can put a stop to your active concerns about dental decay without making you fret over how treatment will affect your life. At our Sheridan, WY dentist's office, we can provide dental fillings that imitate healthy enamel. They actually bond directly with the surrounding tooth structure, so they can provide reliable support for the long term without making you vulnerable to problems. We are able to help you even if you have a more serious problem with advanced decay. In a situation like that, we can still give you results in just one appointment thanks to our CEREC dental crowns!
We Need To Deal With Permanent Tooth Damage When We Treat A Cavity
The unfortunate truth is that when you have a cavity, you will have to deal with permanent damage to your tooth structure. If it is not dealt with, you will remain vulnerable to an infection as well as to problems with physical damage. The good news is that during a routine evaluation, we can let you know that you need work done to restore a tooth's health and provide it before there are complications. With a dental filling, we can keep your tooth safe from harm while only making minimal changes to its structure.
Providing Treatment With A Lifelike Filling
Our lifelike dental fillings are made with a composite resin substance that can effectively imitate healthy enamel. When it is in place, the resin material actually bonds to the surrounding tooth, which provides a remarkably strong hold. This process only requires one appointment, making this a convenient as well as appearance-friendly solution.
We Also Provide Crowns That Imitate Healthy Teeth
There are times when a filling is just not going to offer enough support for your tooth. In a situation like this, we can instead use a dental crown. At another practice, this different approach would mean a second appointment to have a custom restoration put in place. However, our office is able to supply treatment in just one appointment thanks to our CEREC technology. With it, we can have a lifelike crown put in place in just one visit.
Talk To Your Sheridan, WY Dentist About Treatment With A Lifelike Filling!
Through restorative dental work with a lifelike filling, we can give you back your confidence in your smile by restoring a tooth without making changes to the way you look. With your filling in position, you can still bite, chew, and smile the way you did before decay became a problem! To find out more, please call Grinnell Street Dental in Sheridan, WY at 307-672-7567.