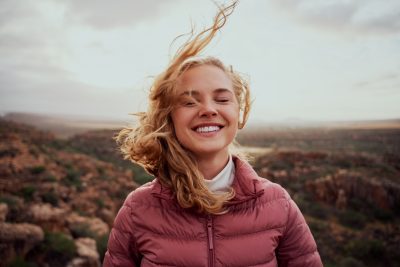 If you want to do something that will change your smile for the better, you should talk to your Sheridan, WY dentist about porcelain veneers. With this one cosmetic procedure, you can put several exciting improvements within reach. Those improvements include making your teeth appear brighter, covering visible chips or cracks, and even hiding concerns about the way your teeth are spaced! We can help you take on many different issues with the way you look, which can give you a new degree of confidence in your appearance. For those who are interested in other treatment options, we can discuss additional procedures that we provide, including treatment with Invisalign to address malocclusion.
Are You Ready To Change Your Smile?
There are consequences to lacking confidence in your smile. You may feel incapable of taking an attractive picture because you have to go out of your way to avoid showing your teeth. Your reluctance to reveal dental flaws can also affect your in-person interactions, which can lead to more uncomfortable feelings. By providing porcelain veneers, we can offer a treatment solution that helps you hide several issues at one time, so you can reach all of your smile goals in less time, and with less effort, than you anticipate.
Using Veneers To Restore The Shape, Size, And Color Of Teeth
Veneers are slender shells that can cover the front surfaces of your teeth in order to hide flaws. When your restorations are in place, they can make your smile appear brighter, they can cover up wear and tear that you have built up, and they can even cover spacing issues that make your smile asymmetrical. They are able to address so many issues at one time because they are custom-made to completely cover the fronts of teeth. This is still more conservative than treatment with dental crowns, and they minimize the amount of preparatory work that you have to undergo to receive them.
Discussing Other Cosmetic Treatment Options
There are several cosmetic dental procedures that we can recommend to patients who want to feel better about the way they look. Tooth bonding procedures carefully restore teeth by hiding blemishes and damage, and by adding size to small teeth. In some cases, this can even be a conservative solution to close a gap between two teeth. Another option we have is teeth whitening treatment, which can give you a brighter teeth by removing stubborn and embarrassing stains.
Talk To Your Sheridan, WY Dentist About Receiving Veneers
Through the use of porcelain veneers to address the different dental flaws that affect you, your Sheridan, WY dentist's office can help you enjoy new levels of confidence in your appearance. We can talk with you about the role veneers can play in helping you reach your smile goals, and we can also discuss the advantages of other procedures that may interest you. To find out more, call Grinnell Street Dental in Sheridan, WY at 307-672-7567.