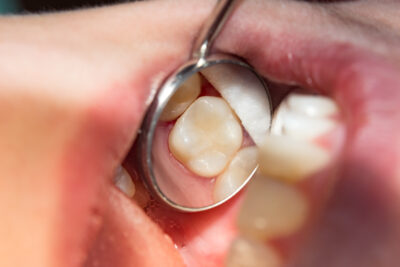 When you have an aching tooth, this could be a sign of a cavity. Treatment could not only halt tooth decay, but stop toothaches and the risk of infection. To treat your tooth, we can offer a discreet dental restoration. In today's blog, your Sheridan, WY, dentist talks about our lifelike composite resin dental fillings.
The Signs of a Cavity
How do you know if you need to undergo a filling placement? Cavities occur when harmful oral bacteria make contact with the inner dentin, the structure usually protected by the outer enamel. This could be due to poor oral hygiene habits and a diet high in sugar and starch, which increases the risk of decay. As the issue forms and spreads through your tooth, you may notice tooth sensitivity and toothaches. Don't ignore pain in your smile, instead talk to our team about possible solutions, such as a lifelike dental filling.
The Placement of Dental Fillings
The process of placing one only takes one visit to complete! Our team will administer a local numbing agent to keep you comfortable as we remove decay and clean your tooth in preparation. We then place the filling material in several layers. Instead of using metal, we opt for a more discreet composite resin, which we can shade to blend with your smile seamlessly. This biocompatible material bonds with the tooth and can last for years to come. Once in place, we sculpt and reshape the tooth as the material cures beneath the outer enamel. Finally, we polish the tooth for a brighter appearance. In a single sitting, you can enjoy lifelike results and save your tooth!
Taking Steps to Prevent Cavities
Action can be taken to avoid the onset of tooth decay. For example, our team recommends brushing your teeth when you wake up and again before bed, using a fluoride toothpaste each time. You should also floss before bed too. These actions remove harmful bacteria and trapped food/drink particles, limiting your risk of tooth decay. Our team also urges people to cut back on the sugar and starch in their diet, and to see us every six months for a checkup and cleaning visit. These actions help not only fight tooth decay, but other concerns like gingivitis and even gum disease.
If you have any questions about placing lifelike composite resin fillings, or about avoiding the onset of tooth decay, then contact our team today to learn more. We want to help you smile with confidence!
Talk to Our Team About Restorative Dentistry
We don't want your cavity to become an infection, which is why we offer lifelike dental restoration. Reach out to Grinnell Street Dental in Sheridan, WY at 307-672-7567 when you need treatment for an aching tooth!