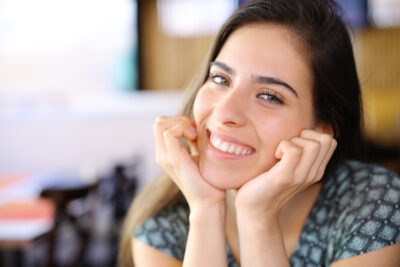 When you have multiple cosmetic concerns with the beauty of your smile, then you could obtain major improvement with only one procedure. Porcelain veneers not only look natural, but they address multiple concerns with the shape and color of each tooth. In today's blog, your Sheridan, WY, dentist talks about porcelain veneers.
Tackling Multiple Cosmetic Concerns
A veneer is placed onto the front facing side of a tooth, and covers the total front of the tooth and the sides as well. Which means they can instantly improve the overall beauty of the tooth. The porcelain material itself is also very durable and strong, but can be shaded to blend with the rest of your smiles seamlessly. Once in place, we can use veneers to correct misshapen teeth, repair minor cracks and chips, and lengthen the structure worn down by teeth grinding. Placement could also address unsightly gaps between the teeth or even correct the appearance of minor misalignment, so you avoid the need for orthodontic aligners or braces. Placement also masks permanent teeth stains, so you can finally obtain a brighter smile!
How We Create and Place Them
Each one is custom-made not only to ensure a natural appearance, but to preserve overall bite balance and ensure they can last for years to come. For a tooth receiving a porcelain veneer, our team will gently numb it and then remove a thin layer of enamel to make room for the restoration. We then take detailed digital images of the tooth to create a detailed impression, one we use in a lab setting to design and craft your restorations. When the restorations are ready, you will return to the office. We will check the fit and make any last-minute adjustments, and then we will attach them with a powerful bonding agent.
Steps for Keeping Restorations Bright
With the right steps, you can help your smile stay bright and beautiful, and ensure your veneers can last for years to come. Such care includes taking time to brush your teeth twice a day for two minutes with a fluoride toothpaste, and to floss thoroughly each evening. Try to limit your consumption of foods and drinks high in sugar, and avoid tobacco products. Be sure you find time to see us for a checkup and cleaning visit every six months. These actions help keep your restorations bright and they also safeguard your natural teeth too! If you have any questions, then contact our team today.
Speak With Your Sheridan, WY Dentist About Porcelain Restorations
You could obtain a smile that looks beautiful and helps you feel confident. To find out how we transform the beauty of your smile, then reach out to Grinnell Street Dental in Sheridan, WY at 307-672-7567.