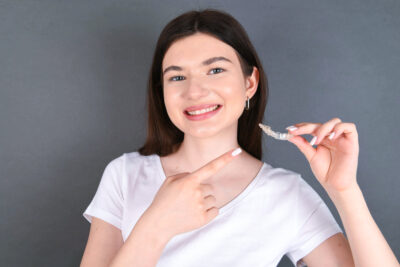 When selecting a treatment system to correct issues with the spacing of your teeth, you have alternatives to traditional bracket-and-wire braces. With clear aligners from Invisalign, you can enjoy the same benefits of a more uniform smile with a far more discreet oral appliance. With their translucent appearance, you can let others know about your decision to straighten your teeth on your own terms. If you have problems with the appearance of your smile, you may not want to bring attention until their correction is finished! In today's blog, your Sheridan, WY, dentist discusses straightening your smile with Invisalign.
Exploring Your Candidacy For Clear Aligners
The first step to receiving a straighter smile with orthodontic correction is booking a meeting with our office. We can discuss the oral health benefits of clear aligner treatment that go beyond improving your cosmetic appearance. Did you know that correcting malocclusion reduces your risks for tooth decay and gum disease? This is because crooked teeth can be difficult to clean, leaving areas for decay-causing bacteria to gather and form plaques. But by bringing your smile into a uniform position, you access its entire surface when it is time to brush and floss!
Producing Your Clear Aligners
We will take detailed digital images of your teeth to create a computerized digital model. This will give us a far more accurate picture of your smile than physical impressions. Furthermore, the digitization process allows us to instantly send your information to an offsite lab for the creation of your aligner trays. Your set is created to gradually move your teeth with each tray until you receive your final results.
Wearing Your Invisalign Treatment
The success of your treatment with clear aligner therapy is dependent upon wearing them as directed. While we will give you custom instructions, in general, you will wear them for around 22 hours each day. This means keeping the set in while you go to sleep as well as when you are awake. We will let you know when it is time to progress from one set of aligners to the next in your series.
The removable nature of your Invisalign allows for easier oral hygiene maintenance than traditional braces. Simply take them out when enjoying a meal to avoid collecting debris. Likewise, without any permanent brackets or wires, you will be able to floss and brush just as before starting your orthodontic treatment.
Speak With Your Sheridan, WY Dentist About Treatment With Invisalign
Clear aligners can help you correct the spacing of your smile without causing an unwanted distraction. To find out how we can help bring your smile into a more beautiful position, please call us at Grinnell Street Dental in Sheridan, WY at 307-672-7567.