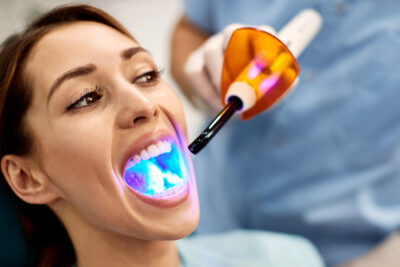 Our cosmetic treatment options are not just limited to teeth whitening. Instead, we can reshoe malformed teeth and address other cosmetic concerns in only one visit. In today's blog, your Sheridan, WY, dentist talks about how we restore teeth with dental bonding and contouring.
The Dental Bonding Procedure
Dental bonding uses the same material employed in our tooth-colored dental fillings. Composite resin is a unique blend of acrylic-like and quartz-like particles, which provide a durable restoration that can handle daily bite forces and pressures. The material can also be color-matched to blend with the surrounding tooth structure too! Which means we can use this to offer lifelike repair for cracked or chipped teeth. Our team also lengthens worn down teeth and reshoes malformed ones too. We can mask permanent teeth stains and even close embarrassing gaps between the teeth.
The procedure is a simple one. Once we numb your tooth, our team will gently and thoroughly remove decay and etch the surfaces. We clean the tooth and then apply the composite resin in several layers. We next sculpt and mold this as it cures beneath the light. The last step is to polish the tooth for a brighter appearance.
Dental Contouring
In the same visit or a separate one, we could also offer cosmetic improvement by contouring the teeth. We don't add new materials to the tooth. Instead, our team will gently sand and buff the outer structure to correct common issues. For example, we can correct the appearance of a chipped tooth, and also smooth out rough patches, pits, and grooves in the outer surfaces. Our team can use this to address overly large or misshapen teeth, and even dull sharp, pointed or jagged portions of tooth structure.
Smile Makeovers
Did you know that our team can also combine these with other cosmetic treatments for a smile makeover. For example, we can whiten teeth beforehand so your bonding and contouring procedures match your brightest smile. Our team could use veneers for the front facing teeth, and reserve bonding/contouring for the side and rear ones. We could also discuss clear orthodontics to straighten the smile, and even recontour the gum line.
If you have any questions about our approach to cosmetic dentistry or about the bonding and contouring procedures in particular, then contact our team today to learn more. We want you to feel proud to show off your smile!
Talk To Your Sheridan, WY Dentist About Our Cosmetic Procedures
In one visit, we can offer major cosmetic improvements for the beauty of your smile. To find out how we reshape and transform your smile with our treatment options, then reach out to Grinnell Street Dental in Sheridan, WY at 307-672-7567.