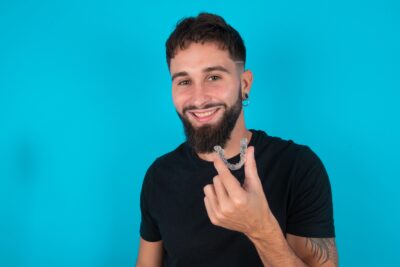 When you have an uneven smile, this could lead to poor oral health and a negative impact on your smile's appearance. Instead of treatment with metal braces, we have a more cosmetic approach. In today's blog, your Sheridan, WY, dentist talks about cosmetic orthodontic treatment with Invisalign®.
What Misalignment Means for Your Smile
When you have crooked, crowded, or overlapping teeth, this could mean trouble for the health, appearance, and even the function of your smile. For example, you could have difficulty thoroughly brushing and flossing, so food and drink particles remain trapped to increase the risk of tooth decay and gum disease. The chances of TMJ disorder and bruxism (teeth grinding) developing are much higher too, as your now imbalanced bite trains the jaw joints. You could also simply feel uncomfortable with your appearance and avoid social situations. But an even smile is possible with clear Invisalign® aligners!
Creating Custom Plastic Aligners
To make your custom plastic aligners, we first need to take detailed digital images of your smile and understand the cause and severity of your misalignment. Experts in a lab setting will use these digital impressions to create your custom aligners, all made from a clear and BPA-free plastic material. Being custom-made means they can shift your teeth with precision, while also fitting comfortably and parring your gum and cheek irritation. They're also removable, so you don't have to change your diet, and you have a much easier time brushing and flossing. You can even remove them for social occasions, such as first dates, graduations, or job interviews. The total treatment time is often shorter too, and requires fewer office visits.
Invisalign®
How does the Invisalign® system work? Well, you will wear a set of the aligners for about 20 to 22 hours a day, over a period of about two weeks. The exact time will depend on our recommendation. At that point, you begin wearing the next set in the series. This process is repeated throughout the treatment period, until you obtain an even and healthy smile. The aligners are easy to clean and soak, and along with your treatment comes a more attractive smile and better oral health.
If you have any questions about tackling your dental misalignment with a series of Invisalign® clear aligners, then contact our team today to learn more. We look forward to helping you smile with confidence, and enjoy better oral health as a result.
Talk To Your Sheridan, WY Dentist About Invisalign®
Our team wants to help you obtain an even and beautiful smile with our clear and practically invisible orthodontics. To find out how we improve the alignment of your smile, then reach out to Grinnell Street Dental in Sheridan, WY at 307-672-7567.