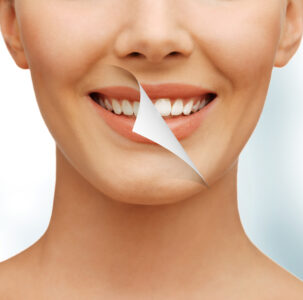 When you have stained teeth, we can offer a noticeably brighter smile, often in only one visit. With professional teeth whitening, we provide dramatic results, far brighter than most store-bought options. In today's blog, your Sheridan, WY, dentist talks about our two teeth whitening treatment options.
How Teeth Stains Form
Most teeth stains are extrinsic, meaning they form on the surfaces of the teeth. These could be caused by plaque buildup, which makes discoloration more visible and is brought on by lack of proper brushing and flossing, and a diet high in sugar and starch. Drinks with dark pigments, such as coffee, red wine, soda, and tea could be factors too. Smoking cigarettes and using tobacco products stain the teeth as well. We can remove these with our professional teeth whitening systems! However, intrinsic teeth stains, which form beneath the outer enamel and can be caused by injury, fluorosis, or the use of certain medications, could be masked with dental bonding or our porcelain veneers.
Removing Stains In-Office
Our in-office teeth whitening treatment provides results in only one visit. To begin, we will place a protective covering on the lips and gums and then apply the bleaching gel to the surfaces of your teeth. A special light will then activate the bleaching ingredients in the gel. Stains are then broken up and removed, offering a much brighter smile in as little as one to two hours. This is great if you need results fast before a first date or a job interview.
An At-Home Treatment Option
Our team also offers an option you can use at home, and which can brighten teeth by up to eight shades, while also limiting the risk of tooth sensitivity. First, you stop by the office so we can take impressions of your teeth and create a custom set of plastic trays. You take the trays home with you afterward, along with syringes filled with a powerful bleaching gel. You will place the gel in the trays and wear them for about an hour each day, repeating this process for about one to two weeks. The trays and the gel brighten teeth evenly, and prevents saliva from diluting the gel. Any leftover gel can be used with your trays for touch-ups in the months to come.
To help your results last, be sure you brush and floss daily, eat a healthy diet and avoid tobacco products, and see us for cleanings every six months so we can remove plaque and polish your teeth.
Talk To Your Sheridan, WY Dentist About Cosmetic Dentistry
We would like to help you smile with confidence again. To find out how we offer our patients a noticeably brighter smile, then reach out to Grinnell Street Dental in Sheridan, WY at 307-672-7567.