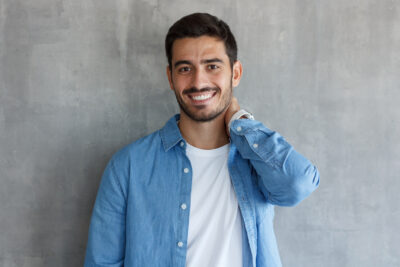 Until you fix the problem, you can remain self-conscious about your smile because of noticeable staining. The accumulation of particles from foods, beverages, and tobacco products will lead to trouble with your appearance that can make you look older, less attractive, and less healthy. What you can find is that your Sheridan, WY dentist's office can actually help you take on embarrassing discoloration while prioritizing your convenience. This is because we rely on both in-office care and the option to send patients home with personalized teeth whitening kits. With both options, we can remove stubborn stains that you have picked up. We can also talk to you about how another cosmetic service can take care of your appearance if you are bothered by internal discoloration.
Are You Unhappy With The Color Of Your Smile?
Many people start to feel unhappy with their smile because of worsening teeth stains. For tobacco users and people who enjoy darker and color-rich foods and beverages, discoloration can form and grow hard to ignore earlier in life. If your teeth appear dull and unsightly, you can feel embarrassed, as your smile can appear unhealthy and not as attractive. You can also feel that your smile now ages you prematurely. There are different services that can help you take care of this kind of problem. Both take-home teeth whitening kits and in-office whitening can make the kinds of desirable changes you are eager to share with the world!
Selecting Your Preferred Teeth Whitening Treatment Approach
Are you happier with the idea of whitening your smile at home, or would you like to enjoy a convenient in-office treatment? In-office care can produce results in just one appointment, which means your improvements are ready to share with the world before any important events that are upcoming. We can use a special light that stimulates the whitening gels to make results possible in a short period. For someone who wants to simply take home a treatment kit, but hopes to see professional results, whitening kits are available for use at your convenience. These kits are able to make care easier because they include custom trays along with advanced bleaching gels.
What Else Can You Do To Improve How You Look?
Sometimes, people who want whiter teeth actually need to consider services outside of professional teeth whitening. This is because we actually need to take care of intrinsic discoloration. Porcelain veneers and dental bonding services can hide discoloration that forms within the tooth structure. We can also recommend these services when you have worries over tooth shape, size, and condition.
Talk To Your Sheridan, WY Dentist About Treatment For Discolored Teeth
Through treatment for discolored teeth, we can help you show off a lovelier and more confident smile! If you want to find out more, please reach out to Grinnell Street Dental in Sheridan, WY at 307-672-7567.