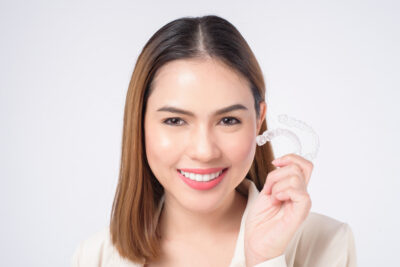 If you have problems with the way your smile looks that can be traced back to malocclusion, should you say something to your dentist? People who are bothered by poor teeth spacing may assume that they have to rely on the help of an orthodontist to treat this issue. What you can find at our Sheridan, WY dental office is that we are prepared to help you, and we can do so without relying on conspicuous metal braces. Instead, you can use a set of Invisalign aligners to make the necessary changes to improve the way you look. These clear aligners can discreetly and gradually move teeth into more attractive positions. With this corrective work done, you can feel better about how you look, and you can take on problems with your dental health related to poor alignment.
Are You Someone Who Can Benefit From Orthodontic Work?
If you have teeth that are too far apart, or any that have recessed or jut forward because they overlap with neighbors, you can benefit from corrective work. Straightening your teeth can make your smile more symmetrical, and it can fix conspicuous flaws that currently make you unhappy with the way you look. What you should know is that there are discreet ways to fix these problems. With Invisalign aligners, you can see a desirable outcome from orthodontic treatment without the need to wear metal braces that draw undesired attention.
How Invisalign Discreetly Takes Care Of Poorly Spaced Teeth
A set of Invisalign aligners that are personalized for your use will help you move teeth into more desirable positions. Each aligner in your set will bring your teeth closer to their ideal positions. All of them are made to avoid detection, and they are all easy for you to remove on your own. As you move from one appliance to the next, you can see gradual improvements in the way you look, which can lead to more confidence as well as benefits for your oral health!
We Offer Several Treatment Options For Patients Interested In Cosmetic Work
Because different cosmetic dental procedures are available to our patients, we can help people see desirable changes and raise their confidence levels. Options like teeth whitening treatment and Invisalign help patients target specific concerns. With tooth bonding treatment and porcelain veneers as options for care, we can take care of multiple issues at one time, giving you the means to make ambitious changes in less time than you anticipate!
Talk To Your Sheridan, WY Dentist About Invisalign!
Through Invisalign aligners, we can help our patients take on problems with the way they look, and we can do so while making orthodontic treatment surprisingly easy to fit into your daily life. To learn more or discuss starting treatment, please reach out to Grinnell Street Dental in Sheridan, WY at 307-672-7567.