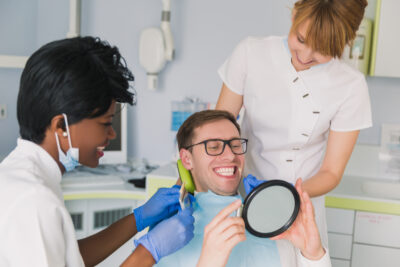 Whenever a cavity forms, a tooth suffers permanent damage. The amount of damage will vary, as decay can be identified and treated at different stages. If the problem is not caught in a timely manner, the harm to your enamel can be significant, but early detection can lead to a more conservative treatment. At our Sheridan, WY dentist's office, we can make sure that you have permanent protection for a tooth that is damaged by a cavity. Whether you need a small filling or a crown to cover your tooth structure, we can provide lasting support, and we can do so with materials that actually imitate healthy enamel!
Why Cavity Treatment Includes The Placement Of A Restoration
Unfortunately, once you have a cavity, you will have permanent enamel damage that must be addressed as part of your restorative treatment. One reason it is important to keep up with regular dental exams is that they can lead to the discovery and treatment of decay when a cavity is not yet serious enough to cause discomfort. While this does not prevent permanent damage, it still stops the harm from spreading, which limits how much work you require. We should note that our practice can help you whether you have an issue that is caught early or a problem serious enough to require a crown.
Using A Dental Filling To Protect Your Enamel
Dental fillings are applied directly to an area where a cavity formed. With the placement of this material, we are able to cover up harm to your tooth structure without making changes to the surrounding structure. We rely on a composite resin material to produce fillings that are capable of imitating and bonding to your enamel. Because we take this approach, we can protect your tooth without interfering with your smile!
Protecting A Vulnerable Tooth With A One-Visit Dental Crown
Many dental offices can provide crowns that are durable and able to match your appearance, but they can take longer to produce restorations because they rely on third party labs to make them. Our office can cut your procedure down to a single appointment thanks to our use of CEREC technology, which enables us to produce same-day crowns. We can digitally measure your tooth, create a design of your crown, and have one made from a lifelike ceramic material produced in our in-office milling machine.
Talk To Your Sheridan, WY Dentist About Protecting A Decayed Tooth
The more time you take before seeing your dentist, the more time a cavity has to do permanent harm to your tooth structure. Whether you need a dental filling or a crown to protect your tooth, we can see to it that you have lasting support from a restoration that can match your enamel and preserve your smile. If you would like to find out more, reach out to Grinnell Street Dental at our location in Sheridan, WY at 307-672-7567.