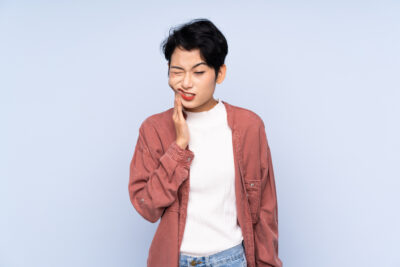 If jaw pain is becoming a more frequent part of your daily life, it can be difficult to disregard the idea that something is seriously wrong. General pain and sensitivity, along with discomfort or resistance when you bite and chew, headaches, and pain in your neck and shoulder area can all point to TMJ disorder as the cause of your troubles. Letting your Sheridan, WY dentist know that this is a problem can be an important first step in enjoying meaningful relief. With the right treatment, you can ease the tension and pain from poor joint alignment and improve your quality of life!
Am I Experiencing Jaw Pain Because Of TMJ Disorder?
You can have increasing difficulty ignoring the signs of TMJ disorder, as they can manifest in several unpleasant ways. One issue is that you may lose the ability to bite and chew without experiencing feelings of pain, and without difficulty from resistance or joint sensitivity. You could also find yourself struggling because of headaches that make you increasingly uncomfortable. If your jaw pain and facial soreness are more pronounced when you wake up, it can point to an issue with teeth grinding, something that many impacted by TMJ disorder will experience.
Planning Care To Address Jaw Pain
By bringing up your symptoms of TMJ disorder to your dentist, you can learn about what treatment for jaw pain and stiffness can call for. Your poor movement can stem from problems with alignment; if your joints no longer move in alignment, it can be difficult to ignore the pain that you feel and the difficulty of your movements. This is something that we can correct with a custom oral appliance. The guard that we prepare for you will hold your jaw in a more comfortable position and encourage movement that keeps up with proper balance.
Restorative Services And Your Dental Function
Dental work may need to take place if you want to apply pressure evenly on teeth. Without that work, you can remain stuck with a painful or limited jaw movement. During a review, we will look out for any teeth that are damaged, undersized, or unhealthy; capping them with dental crowns will help you improve your bite function and quality of life!
Talk To Your Sheridan, WY Dentist About Your Jaw Pain!
Problems with jaw pain can turn into something difficult to ignore. Instead of living with fears about the condition of your jaw, you can talk with your dentist about TMJ treatment! Many people who experience persistent pain and sensitivity can benefit from the use of an appliance that keeps their jaw better positioned. If you would like to find out more, reach out to Grinnell Street Dental at our location in Sheridan, WY at 307-672-7567.