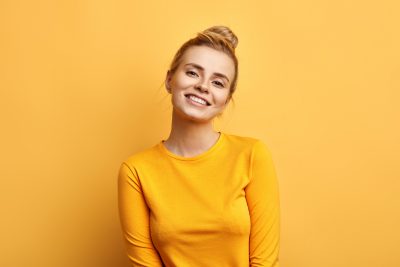 Cavity treatments need to include the placement of fillings or crowns. With no restoration present, your tooth would be vulnerable to physical damage and infection. Fortunately, you can now count on having access to treatment that restores your appearance as well as your oral health. Our Sheridan, WY dentist's office is prepared to help you by providing lifelike restorations. We use metal-free dental fillings that can bond to your tooth structure and imitate its appearance. As a result, we can help you move on from a cavity without having to accept a permanent change in your smile or bite function.
Does Your Cavity Treatment Have To Affect Your Smile?
If a cavity forms in a more visible area of your smile, what can you do to preserve your appearance? Will treatment leave you with a filling or crown that attracts unwanted attention from others? Through the right treatment with a lifelike dental filling, we can preserve your smile and oral health. We use a resin substance that can match the color and texture of your tooth. When you have it put in place, you can marvel at its lifelike quality, and you can appreciate the functional support that it provides you.
Receiving A Lifelike Filling To Restore Your Oral Health
Tooth-colored fillings are applied directly to the space where a cavity formed. As they harden, they can bond with your enamel, which creates a remarkably strong bond. These restorations are less reactive to temperature extremes than metal, which makes them less likely to lose their shape and come loose, or leave exposed areas where bacteria can gather. After it is put in place, your filling will allow you to keep biting and chewing without negatively affecting your tooth.
Why Cavity Treatment Can Sometimes Require A Dental Crown
It will be necessary for us to place a dental crown if your tooth needs more support than a filling can give. In addition to providing crowns that are attractive, we can make the treatment process more convenient by producing your restoration in-house. Our CEREC technology gives us everything we need to measure a tooth, digitally design your crown, and produce it so that we can move forward with the placement procedure. At the end of one appointment, you can have lasting support for a tooth affected by advanced decay or physical trauma.
Talk To Your Sheridan, WY Dentist About Cavity Treatment
Through cavity treatment with lifelike restorations, we can take care of our patients' oral health needs without changing the way they look. We use dental fillings that imitate the color and texture of your healthy enamel, which provides cosmetic and functional benefits. If you would like to find out more about how we can help you, or if you are interested in our preventive or cosmetic services, call Grinnell Street Dental in Sheridan, WY at 307-672-7567.