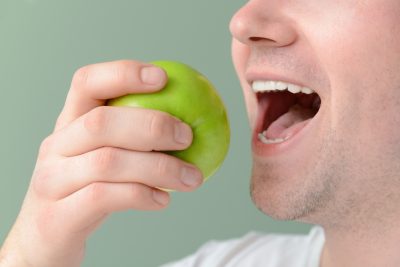 Your ability to bite down forcefully help you chew through nutrient-rich foods that are tougher. It is also an indication of good oral health. If something stops you from comfortably biting and chewing, you should meet with your dentist to learn what is causing the trouble. At our Sheridan, WY dentist's office, we can help you take care of a problem that interferes with your dental function. A problem with tooth pain can call for restorative work to address an injury or cavity. However, if your problem is with your jaw movement, it may take another approach. We can look into TMJ treatment, which reduces pressure on your joints and muscles by correcting imbalances in your joints and movements.
Is A Problem With Your Jaw Affecting Your Bite Function?
If something stops you from confidently and comfortably biting and chewing, it can be a time to see your dentist. Letting this problem go unchecked can lead to more discomfort as the pain worsens, the overuse of certain teeth (wearing them down prematurely) and more. In other words, making this issue a priority is important. We can help you find out what is wrong and recommend the appropriate treatment to put the matter behind you. Many people experiencing jaw problems like this can benefit from TMJ therapy. We can use an oral appliance to assist with this by correcting the alignment of your jaw to ease tension.
Dealing With Dental Problems That Make Biting And Chewing Painful
An injured tooth, or one affected by decay, can be difficult to use when you bite and chew. Letting the problem go untreated can lead to complications, as its health may worsen, or more physical damage may take place. With a custom dental crown, we can keep your tooth stay safe and secure. Our practice uses technology that lets us produce restorations in just one appointment, so we can resolve your troubles in less time.
We Can Help You Stay Better Informed About Your Oral Health
By staying consistent with regular dental exams, you can avoid larger difficulties with your oral health and stay safe from the onset of new problems. At regular checkups, we take care to look out for early signs of trouble, which can be resolved before there are complications.
Talk To Your Sheridan, WY Dentist About Your Difficulties With Bite Function
Through treatment to address problems with your bite function, you can put a stop to ongoing discomfort and enjoy a full, nutrient-rich diet. Our office is prepared to take on problems with individual teeth as well as difficulties with jaw movement and alignment. To find out more, please reach out to Grinnell Street Dental in Sheridan, WY by calling 307-672-7567.