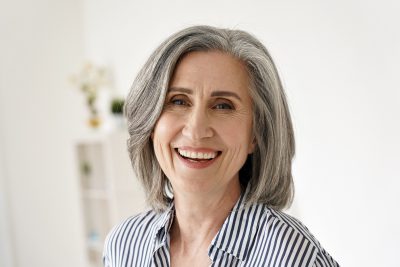 Your smile, your dental function, and your overall confidence can falter when you lose a tooth. This is a problem that people often associate with old age and poor health, making it a source of embarrassment for many who suffer from it. It can also interfere with your ability to confidently bite and chew certain foods, and may motivate you to hide your smile to avoid revealing the gap that tooth loss has left. At our Sheridan, WY dentist's office, we can help you take on this problem and stop letting it interfere with your quality of life! Through the placement of a permanent dental bridge, we can close your smile gap without performing oral surgery. This restoration remains secure thanks to a pair of dental crowns that we affix to teeth at either side of where your tooth was lost.
What Tooth Loss Can Do To Your Quality Of Life
There are several reasons why people grow frustrated over their oral health and appearance after they lose teeth. That one space can make it more difficult to bite and chew, and that can lead to an increase in tension that affects your jaw joints and muscles. Over time, someone who is not able to perform a natural bite motion can start to struggle with TMJ disorder that leads to further difficulties. You can also find that tooth loss stops you from showing off a confident smile, as you may be reluctant to reveal the space where your tooth once was.
Receiving A Custom Dental Bridge
A custom dental bridge is carefully made so that it fits comfortably, and so that it will restore your appearance as well as your oral health. The appliance contains a pair of dental crowns at either side, which are capped to teeth to hold it in place. Between the crowns are your pontic, or in some cases multiple pontics. The pontic is the restoration meant to replace your missing tooth. In addition to matching the appearance of neighboring teeth, a bridge will be strong enough to withstand biting and chewing forces, making it easier to bite and chew foods that were previously difficult to enjoy.
Using A Dental Implant To Support A Restoration
A dental implant can secure a permanent prosthetic without modifying neighboring teeth. Your replacement tooth will be set on an implant that is carefully inserted in your jawbone at the location where your lost tooth previously resided. This helps with more than just daily bite support and cosmetic improvements. Over time, the implant will stimulate your jawbone to help preserve its density and health.
Talk To Your Sheridan, WY Dentist About Restoring Your Smile With A Dental Bridge
At our Sheridan, WY dentist's office, we can help patients who have experienced tooth loss take on problems that have left them unhappy with their appearance and oral health! To find out more, please call Grinnell Street Dental at 307-672-7567.